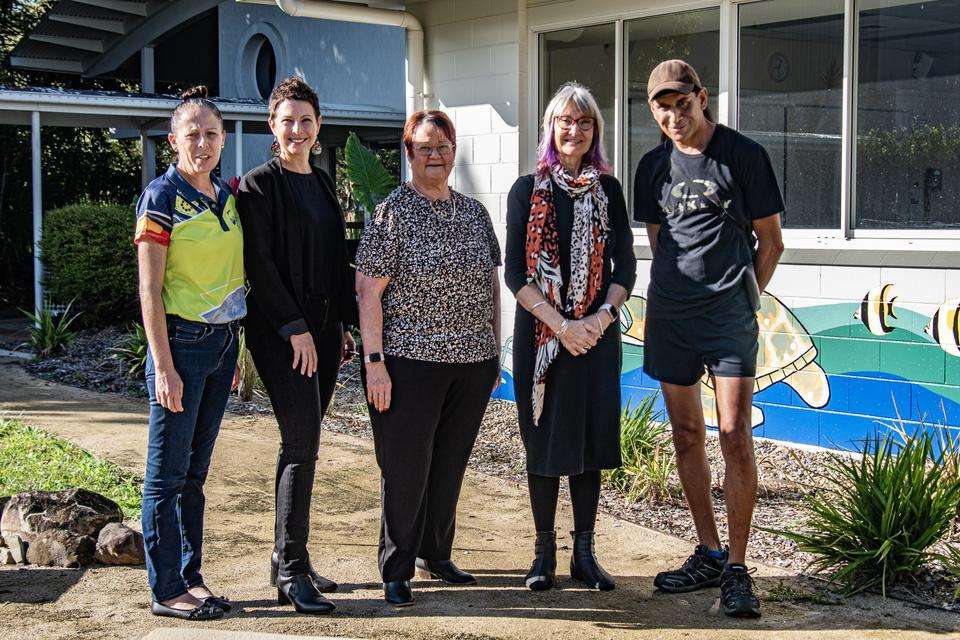 A newly completed Indigenous mural at CQUniversity's Mackay Ooralea campus will be a feature of a new cultural space that aims to provide a culturally safe space for staff, students and members of the community to connect.
Funded by the Regional Arts Development Fund (RADF) through the Queensland Government and administered by Mackay Regional Council, the project was initiated by CQUniversity Indigenous Student Wellbeing Project Officer Mellisa Taggart who commissioned Indigenous mural artist and proud Yuwibara man Kimba Fatiaki.
"For Aboriginal and Torres Strait Islander peoples, a culturally safe environment is one where they feel safe and secure in their identity, culture, and community," Ms Taggart said.
"It is my hope that this space can bring peace and calmness to all and be a place where staff, students and community can have time out from their busy days to sit peacefully and reflect in a space where everyone can be themselves and relax."
Ms Taggart collaborated with fellow staff, students, members of the community, and Traditional Owners, the Yuwibara peoples to workshop ideas and to commission mural artist Kimba Fatiaki, who returned to his country (Yuwi) to paint the mural.
"Being able to create on country and reconnect with the Traditional lands has become a new learning perspective on life, and I have loved being home in the open spaces of rural east coast Mackay as a "Yuwi Yuwi" Artist," Kimba said.
A creative from the age of five, Kimba is a self-taught artist who was inspired by nature and wildlife, experimenting with his craft to explore concepts of place and meaning through simple macro designs, entitling this new mural on the CQU Mackay Ooralea campus, 'To Think Big'.
"I created white, transparent meeting place circles depicting a place of learning for all cultures, and I wanted to exemplify that all doors are open, through thinking and looking after our land – our turtles, the water ways of salt and fresh water – to remind us not to destroy our country, so that all can enjoy it," he said.
The Regional Arts Development Fund is a partnership between the Queensland Government and Mackay Regional Council to support local arts and culture in regional Queensland. RADF Committee chair, Councillor Fran Mann said the committee had been very supportive of the theme of the mural and hoped it would inspire students, staff and the community.
"We'd like to congratulate CQU Mackay and artist Kimba Fatiaki on this amazing addition to the campus that will undoubtedly be a meeting place and a conversation starter for the university community," Cr Mann said.
"The committee was also very pleased to see the collaboration with Yuwi to ensure this site complimented and respected the culture of our region," she said.