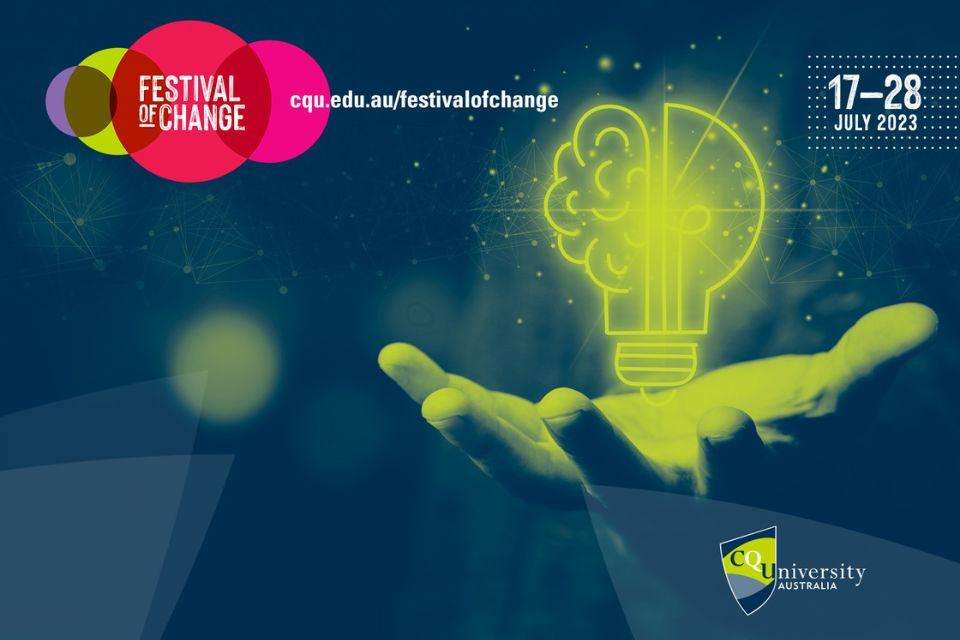 CQUniversity's annual celebration of changemaking will return in July 2023, with the sixth Festival of Change set to put the spotlight on social impact for inclusion, equity and accessibility across Australian communities.
From a fair go in higher education, to young Australians driving sustainable fashion, and how social entrepreneurs are transforming regional communities, the Festival of Change will showcase big ideas, and inspire real action. 
The two-week series will feature free events on campuses and online across Monday 17 July to Friday 28 July, 2023.
Participants will hear from trailblazers across human rights, community development, social enterprise and education innovation. 
The national online launch event, Breaking Barriers will be held on Tuesday 18 July and invites CQU staff, students and community members to hear from an inspiring and thought-provoking panel, including CQUniversity Chancellor and former Australian Human Rights Commissioner Graeme Innes AM.
Breaking Barriers will ask how we can make tertiary education truly accessible and equitable, as discrimination on the basis of race and culture, disability, neurodivergence, gender, disadvantage and distance still creates barriers to education. 
The panellists will share their lived experience, call out injustice, challenge stereotypes, and map the priorities they see for real change.   
Other events include:
Eat Up Sandwich Making on campuses in Brisbane and Melbourne, the event will challenge CQU staff and students to spend an hour making 1000 sandwiches, to support not-for-profit Eat Up to provide free lunches to students at more than 600 schools across Australia. 
Gen Z and Sustainable Fashion will see green marketing passionista Stephanie Deenmamode share her insights into sustainable fashion, and how industry and community can tap into Gen Z priorities for positive environmental and social outcomes. 
Beyond iActivate will hear from Cairns life coach and Queensland Social Enterprise Council member Sophie Anderson about her experience in CQU's iActivate social entrepreneur accelerator, and the thriving ecosystem of social enterprise in Far North Queensland. 
Mind Flow Grow Yoga with CQU social entrepreneur Steve Williams. 
Held annually since 2018, the Festival of Change is one of many CQUniversity initiatives driving social change, innovation, equity and inclusion as an Ashoka U Changemaker University, and Australia's first social enterprise university certified by Social Traders.
With more than 15 events across Festival of Change 2023, the two-week event has something for everyone. 
Explore the Festival of Change schedule and register here.