Transcript
I really love my animals and my pets and I always have but I have worked for a very long time now with young people who have presented with complex trauma and very complex presentations whereby it's difficult for them to engage with the usual counselling settings
My name is Megan Humphries I am a social worker and my business is called therapy Tales. One of the main modalities that I provide is animal assisted therapy. I really love these types of therapies and was quite passionate about stepping into providing a service where I could do that and bring my dog to work.

So I have Monty who's currently sitting in the tent, he's a Labradoodle and I have a 14-week-old Labradoodle as well named Daisy and both of them will Monty works with me currently and Daisy hopefully in the future will be qualified to work as well we founded therapy tales in 2017 at the time was residing in the Townsville region and I was providing equine-assisted therapy up in the area, I was also working in a government job later on I moved to Rockhampton and started working privately so now I provide Private Practice services to families of young people providing mental health services and counselling
Some businesses will have therapy dogs come and visit as part of their staff Wellness programs. I think that it's always quite a positive thing to have pets or therapy dogs come into the workplace but it does need to be well considered we know not everybody loves animals as maybe I do and some people have had poor experiences with animals in the past or they might have severe allergies so if a workplace is considering this they need to make sure that it's well thought through for the humans as well as for the dog otherwise the research and evidence shows that having a dog or particularly a dog as an addition in the workplace has a lot of positive benefits to performance and staff wellness and particularly in group settings so for problem-solving group cohesion other aspects like that it really enhances performance.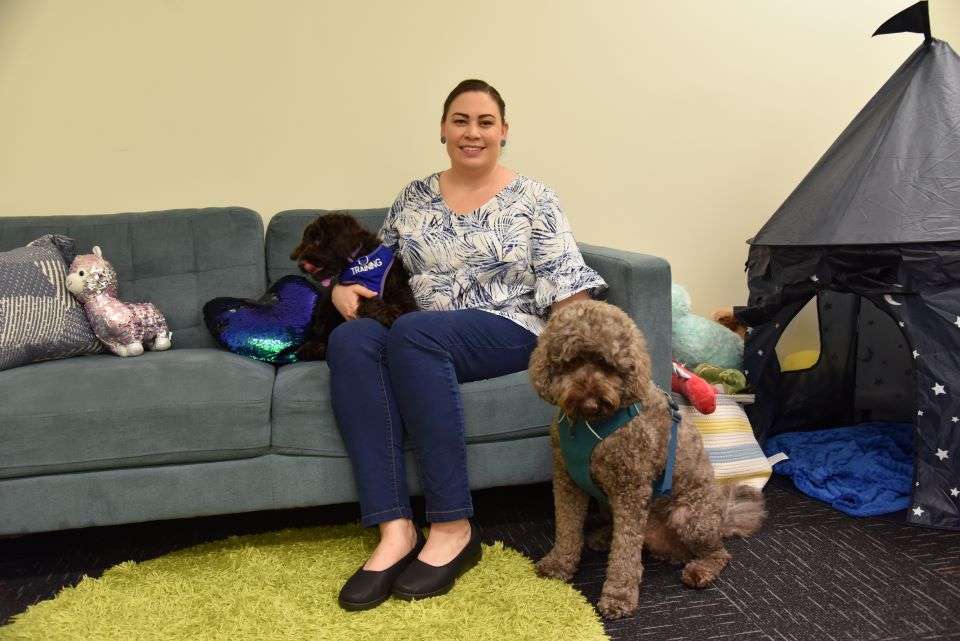 CQUniversity Bachelor of Social Work alumnus Megan Humphris is using Take Your Dog to Work Day (TYDTWDay) tomorrow (23 June), to highlight the positive impact our furry friends can have on mental health and wellbeing.
As a specialised mental health professional and owner of her own animal-assisted therapy practice called Therapy Tails, Ms Humphris has seen firsthand the range of benefits dogs can provide – from reducing loneliness, increasing feelings of social support and boosting your mood. 
"Dogs are orientated to the present as they live in the moment. The presence of a dog helps facilitate a mindful process. As a result, people can engage fully and experience a measure of relief from stress and anxiety," she explained. 
"They provide unconditional positive regard as they are non-judgemental and consistent. Generally, a dog greets you the same whether you have had a good day or not, whether you are performing well at work, have just been suspended from school, or just had a difficult week. 
"Some positive effects include a drop in the stress-related chemical cortisol which can reduce feelings of stress and tension. There are even benefits in a reduction in blood pressure. 
"There can be an increase in oxytocin, a stress-modulating hormone in humans and dogs during interactions. Other positive aspects are the sensory benefits from petting a dog or having a dog seated on our lap, which can be grounding and relaxing."
She said that many companies and employers around the world are recognising how pet-friendly workplaces can provide these benefits in an office environment. 
"Countless studies have indicated that being in the presence of a dog can have a 'de-arousing effect' on humans and can provide a social buffer.
"According to the Human Animal Bond Research Institute in the United States, there is a range of positive impacts of having a dog present with group problem solving, indicating that there can be higher levels of cohesion, trust and cooperation when there are groups that have a dog present," Ms Humphris said. 
"Another survey conducted by the Institute found greater employee engagement and retention with pet-friendly workplaces."
While Ms Humphris said the presence of dogs, in particular, could be beneficial in many workplace settings, she warned that the safety of both humans and animals need to be considered. 
"Animal-assisted interventions are relatively new to Australia in comparison to other countries such as the United States or even Israel. It is an unregulated industry that does require critical thinking for ethical practice. 
"An animal joining a workplace does need to be carefully planned and thought through," she said.
"We need to consider that not all people enjoy the presence of an animal, may have had previous poor experiences and could even experience some anxiety. Some people have allergies. In these cases, animals would have the opposite effect.
"It is also important to consider the needs of the animal visiting before implementing such a program. Who will be responsible for this animal? Does it have 'downtime' and proper rest breaks outside of the workplace environment? Who monitors the animal's stress levels and health?"
For individuals or workplaces unable to facilitate these requirements but would like to receive the benefits and additional support, Ms Humphris encouraged outsourcing services like Therapy Tails. 
"Animal-assisted therapy has demonstrated to assist in the treatment of psychological disorders with outcomes that have included an increased sense of comfort and safety, motivation, self-esteem, prosocial behaviours and decreased behavioural problems," she said.
"One of the biggest positive impacts and most valuable of having a dog join a therapeutic or counselling setting is the benefit on relationships. This relationship can provide a secure base and enhance the client-therapist relationship to facilitate greater change."
She added that it was important to thoroughly research these therapy services to ensure there are appropriate training qualifications relating to the use of animals. 
"Given animal-assisted therapy is an unregulated industry, training offerings for therapy dogs and their handlers vary  in their ethical base, evidence base and quality. 
"As such, I was deliberate in the models of practice I trained. They have their own code of ethics to ensure safe practice for all clients, therapists and animals involved. 
"My undergraduate degree, Bachelor of Social Work (BSW) at CQUniversity launched me directly into the mental health field in Government Health. I work with young people with experiences of complex trauma, high chronic and acute risk, who often have struggled to engage in counselling and mental health support. 
"From there, I engaged in further post-graduate studies and professional development, giving me the diverse opportunity and confidence to become a private practitioner."
Since founding Therapy Tails in 2017, Ms Humphris said her passion for the industry has developed after seeing the life-changing impacts it can have on patients.
"I utilise alternative therapies, like animal and play therapy, because in my experience, I have found that looking at alternative ways of engaging and providing therapy to clients to be more effective," she said. 
"As the evidence base in neuroscience grows, we are learning more and more about the impact of trauma on the brain and how 'bottom up' interventions are far more effective for creating lasting change. That is to put simply, interventions other than talking."