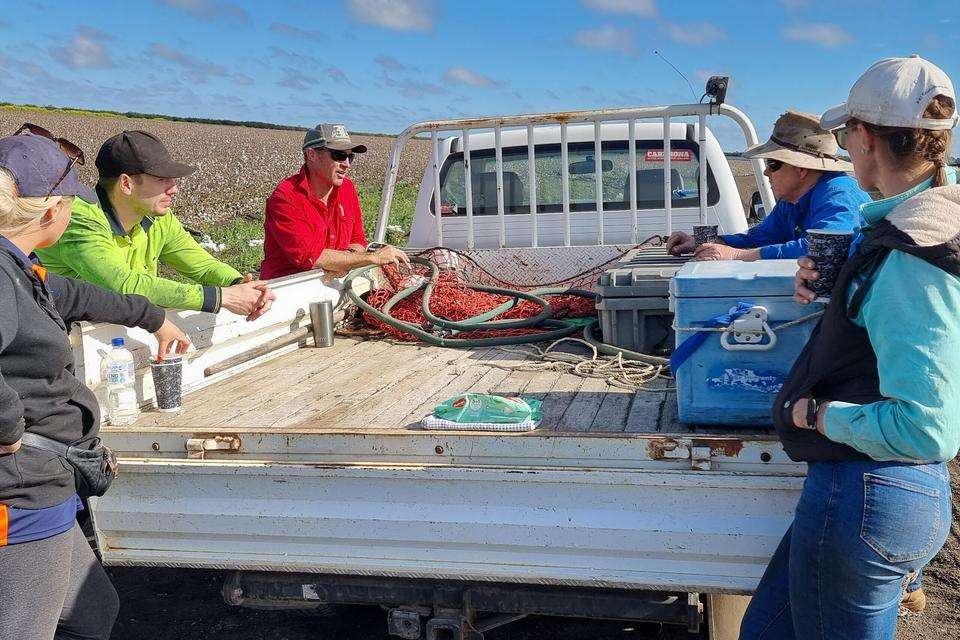 Cotton growers and farm managers from around Australia are invited to a series of interactive Zoom sessions on 6-7 June 2023, to discuss and workshop what they can do to secure an engaged and adaptable workforce.
The Cotton Research and Development Corporation (CRDC) funded action-research project "Delivering Best Practice for Management of Future Workforce Skills" is supporting cotton growing enterprises to implement strategies, tools and resources to better attract, develop and retain their workforce.
The SHIFT project is focussed on utilising knowledge from the cotton industry to create a workforce development framework that is centred on the mechanisms by which employers can achieve the positive workforce outcomes they're striving for. The five pillars of the framework are Social sustainability, Human sustainability, Innovative workplaces, Future focus, and Transformative Leadership.
An initial co-design process has identified key challenges and practical solutions to some of the on-farm workforce challenges faced by cotton growers. Utilising the past decade of CRDC-funded workforce research to unlock the transferable lessons from grower knowledge and experience has been essential to the project.
SHIFT Solutions Group facilitator/project lead CQUniversity researcher Dr Nicole McDonald said that the SHIFT project has allowed for meaningful conversations among cotton growers.
"We know from past research that growers value their workforce. Our challenge is to support people to find people management practices that work for them and their teams.
"Through case studies and conversations, we also know there are good practices growers are already doing. Part of this project is to facilitate peer-to-peer learning and encourage grower-led discussion on how owners and farm managers practically work on the 'people' part of their businesses," said Dr McDonald.
These learnings will be shared in the grower/farm manager only event: The SHIFT Workforce Solutions Unconference. Unlike traditional conferences where a program is designed separate from the attendees' needs and often delivered in lecture-type talks, the Unconference is centred on the participants' interests and involves discussions and workshops.
The UnConference will include grower panels talking about their experiences in tackling current workforce challenges. Additionally, members of the SHIFT project team, leadership expert Jo Eady and CRDC PhD candidate and rural psychologist, Chantal Corish, will be sharing some new ideas and practices with growers to discuss and test out in their own enterprises.
Nicole says, "We are especially grateful to the growers that we have brainstormed and talked with so far in the SHIFT Project. Their input has helped shape this Unconference to ensure the topics will be relevant, practical and focussed on the needs of cotton growers."
Cotton farmers can register to attend the online SHIFT Workforce Solutions UnConference here https://bit.ly/SHIFTunconference.
The draft program is as follows:
Tuesday, 6 June
12 – 1 pm: Grower Panel 1: Rob Davies and James Traill on Adapting to address workforce challenges and workforce engagement.
1 – 2pm: Grower Panel 2: Renee Anderson and Aaron Kielly on Wellbeing at work.
Wednesday, 7 June
Workshop 1 (10 – 11:30am): Developing video training resources to support new entrants to learn (and current team members to revise) on the job skills with Troy Smith and Renee Anderson
Workshop 2 (12:30 – 2:00pm): Wellbeing at work workshop with Chantal Corish.