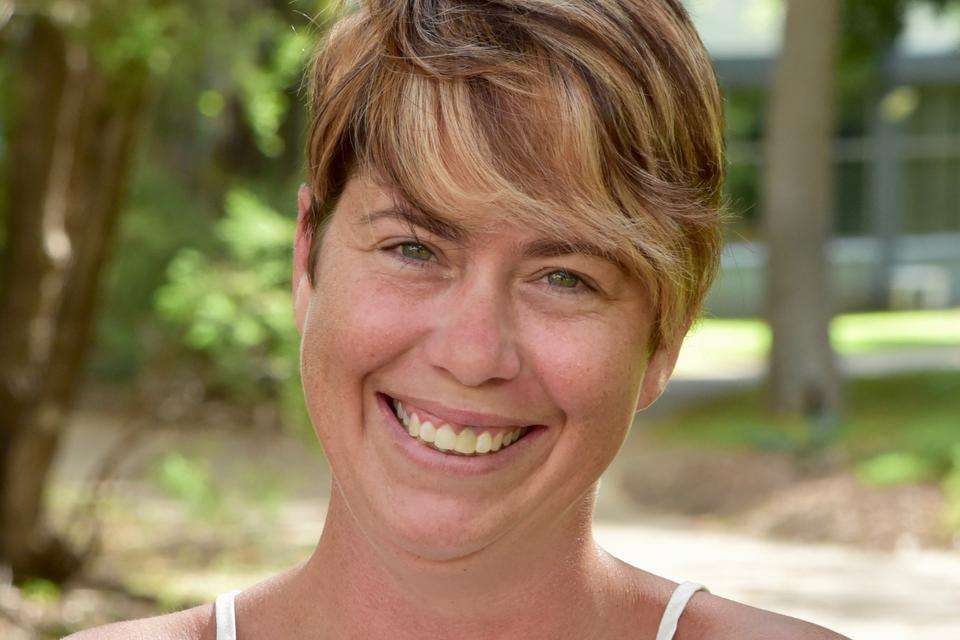 Noonuccal Quandamooka woman Sam Cooms began her CQUniversity PhD determined to grow mainstream understanding of Indigenous support systems for people with disabilities.
Now, Dr Cooms has submitted her thesis with renewed connection to her culture and a passion to pave the way for more First Nations researchers.
The CQUniversity psychology graduate handed in her thesis, on how Indigenous knowledge can inform the disability sector, on 3 December 2021 - the International Day of Disabled Persons.
A mum and fierce advocate for children with disabilities, Dr Cooms said her research with the Quandamooka community was the first of its kind and highlighted how mainstream society must shift to be inclusive.
"All of us are only temporarily able-bodied disability and diversity is the norm," she said.
"There is a massive conflict between the world we have created and how we can actually foster inclusion through kindness and empathy.
"The world we currently live in does not allow for dependency and vulnerability – this needs to shift if we are to truly act inclusively' and sustainably."
While the PhD is a big achievement, Dr Cooms said she was mindful of "bigger things happening in the world", and more important priorities for improving our caring culture.
"It has given me insights and connection to my culture that I am very grateful for, and shifted my perspective about my place and purpose in the world," she said.
"And I do get a thrill out of being called Dr Cooms by other academics and professors and my children also love it!"
Through her four-year degree, Dr Cooms was part of CQUniversity's Jilbay First Nations Research Higher Degree Academy - the first of its kind in Australia.
"The Academy is an amazing initiative, I feel very lucky to have been a part of that and have made some amazing connections with other students that I really value," she said.
Dr Cooms recently began an early career academic role with the University of Queensland's Business School and said she hoped to support other Indigenous researchers through her work.
"I have been trying to get as much writing done as possible! I want to leave a body of literature to help any First Nations researchers coming behind me to ensure that they have plenty of literature to draw on to inform their research," she said.
Dr Cooms' thesis included poetic inquiry as part of her methodological approach, which interpreted her data and responses from her community stakeholders. The moving work titled Too Fast included the aspirational lines:
They tell me to plan' make a dream' set a goal.
I don't want what you think.
A dream of a revolution of kindness
A place for my soul to rest
A place to belong
Connected to the past and future I sit in my harmony.
No goals' no dreams' pleased by the present'
Warming myself with the kindness of those surrounding me
No races
No places
Just together.
Dr Cooms will graduate with her PhD at CQUniversity Rockhampton in December and she said her mum was especially excited to attend.
"That's the way we're raised – Aboriginal culture is about caring, not just about caring for the environment, but also caring for each other, as custodians, so if one of us do well then all of us do well, and if one of us is suffering, all of us suffer," she explained.
Last year Dr Cooms shared some of her research journey on CQUniversity's podcast How to Change a Life.
On Friday 3 June 2022, Dr Cooms will present a seminar at CQUniversity Cairns on The Rise of Virtual Yarning, as part of Jawun Research Centre's Communication, Health, and Social and Cultural Well-Being seminar series.
The event is also available via Zoom and will explore how social media is providing ungated platforms for activists and minority groups, as well as the risks and benefits of using social media to gather data with and about people who are considered vulnerable and hard to reach population groups.
The event is open to the public. Contact Jawun Research Centre via email ciher@cqu.edu.au or phone 07 4923 2672 to RSVP.