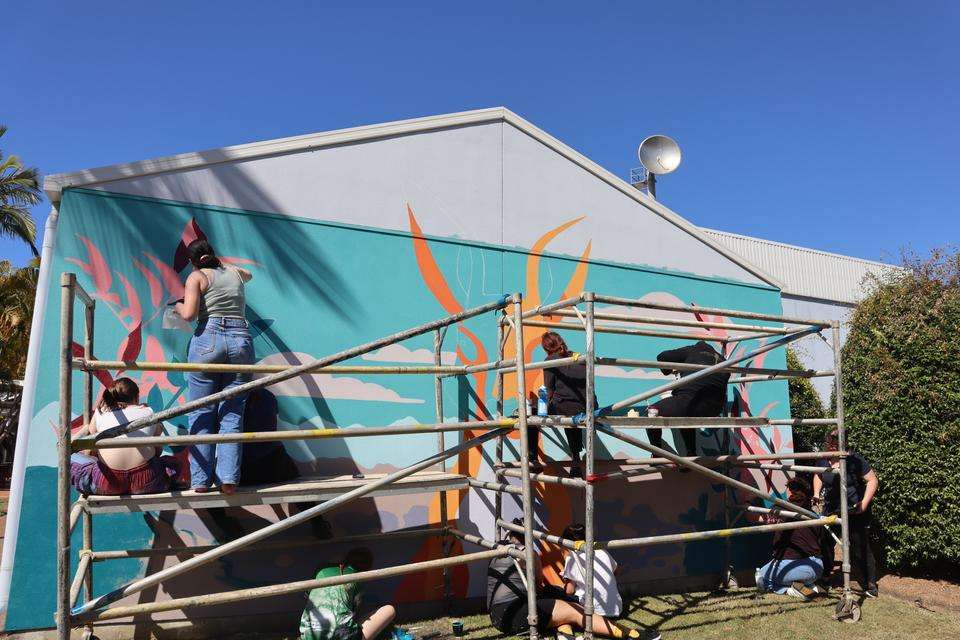 A group of Bundaberg high school students have taken part in an immersive art experience at the CQUniversity Bundaberg campus led by Gooreng Gooreng artist Dylan Sarra.
The local students in Year's 11 and 12 at Bundaberg North and Kepnock State High Schools joined Mr Sarra, to paint a large mural on a wall of one of the campus buildings. 
The experience forms part of a new pilot Accelerated Arts Education program or wuga dhulayu (pronounced wa-ga thu-lie-you) which is funded by an Australian Government Regional Arts Fund Recovery Boost grant and being delivered by CQUniversity with the support and in-kind support of several community and industry partners. 
Bundaberg Regional Council secured the $150,000 Regional Arts Fund Recovery Boost grant and partnered with CQUniversity for its delivery.
The arts leadership program is a culturally authentic and practical learning experience which aims to build community capacity and connect aspiring artists with established creators and industry professionals, so that they can benefit from their instruction, mentoring and industry knowledge. 
It will also help to build the artistic and creative capacity of the local region and contribute to long-term cultural and social development.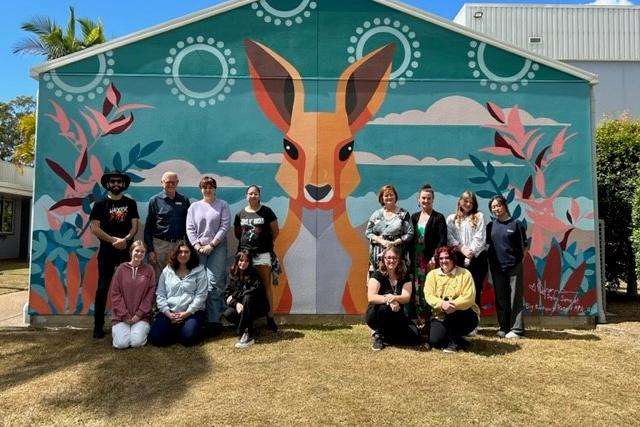 Project Manager, Robert McLellan said that the students who commenced the program in July this year have benefited from being able to share their creative talents and learn more about professional pathway opportunities in the arts and creative industries. 
"The students are highly engaged in the program and are being exposed to the ways in which they can pursue a career that allows them to be creative while also learning and sharing First Nations perspectives," said Mr McLellan.
"The idea behind the program was to form a community-led arts academy that has the potential to offer applied and professional industry experiences for its students with a focus on re-engaging them in education and providing them with skills to collaborate and lead their own arts and cultural projects in the region. 
"This includes engaging specialised trainers, mentors and industry partners to visit our region as well as harnessing the talents and industry experiences of our local arts professionals and university personnel."
As well as gaining mentoring and professional development in the creative industries, students will also gain skills in academic writing and learning as well as obtaining accreditation and direct entry into tertiary studies. 
"Their experiences will also help them to build confidence within applied arts disciplines in order to pursue professional development and further education opportunities, and even turn their skillset into feasible business models," said Mr McLellan.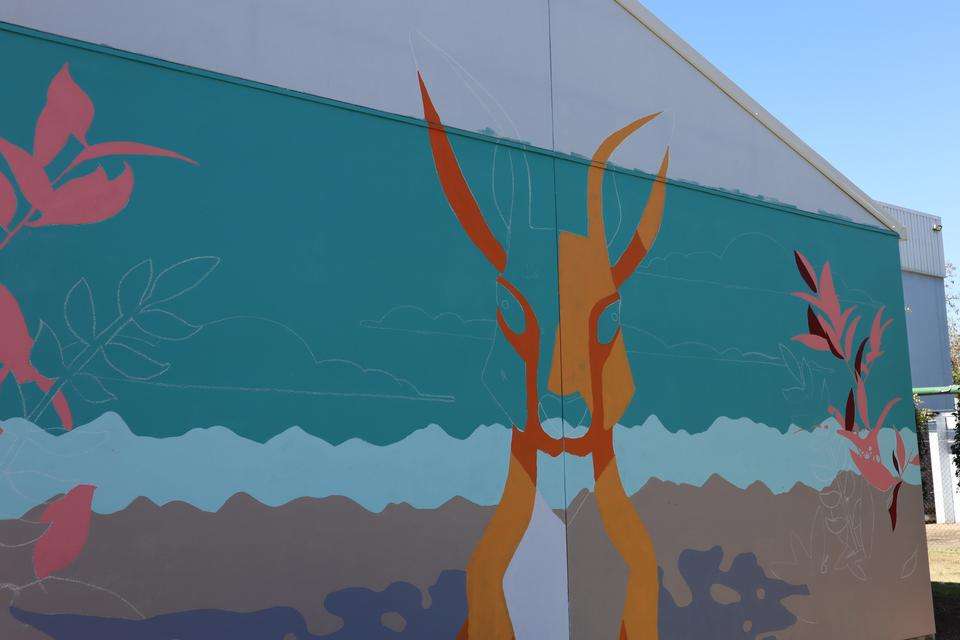 The mural paining with Mr Sarra at CQUniversity was the first of many Artist in Residence activities to be delivered as part of the program and Mr McLellan said that the students benefitted from his knowledge and professional practice. 
"Dylan is a prolific and nationally-recognised artist who has developed his practice over many years in an authentic and culturally respectful manner. His works are predicated on research methods and underscore the diversity of Indigenous cultures and knowledges. 
"Dylan turns his Indigenous art into a written language, using traditional symbols and modern colours that, in turn, tell important stories and he enjoyed sharing his knowledge with the students over the three days of the mural painting.
"The mural painted by the students and Dylan reflected the student cohort, their arts practice and their connection to this place." 
Bundaberg Regional Council's Arts, Culture and Events portfolio spokesperson Councillor John Learmonth said the program provided important opportunities for the region's high school students and artists.
"The wuga dhulayu program provides opportunities to high school students to connect with artists and industry professionals while producing hands-on, collaborative work," said Cr Learmonth.
"The program gives the students real-world experiences and connections which they can use to get a headstart in their arts career.
"By creating opportunities for learning, mentorship and professional development, the program will help build the region's already strong creative community."
Master Painters Australia generously donated and covered the costs of all materials to develop the mural. 
The mural features on Building 16 at the CQUniversity Bundaberg campus. 
Regional Arts Fund is an Australian Government program, administered in Queensland through Flying Arts Alliance.
* wuga dhulayu is the Aboriginal methodology guiding the delivery of this project. Influenced by our local languages, it means to 'give reciprocally' and positions the values of consideration and working together at the forefront of its message.