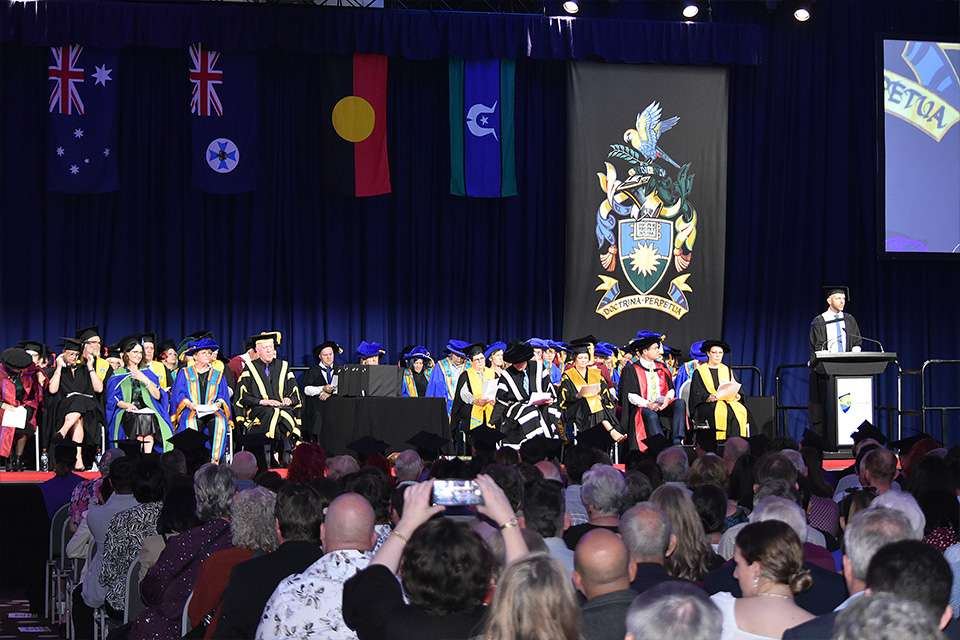 More than 320 students have achieved a significant milestone in their study journeys by crossing the stage at the CQUniversity Brisbane Graduation Ceremony on 25 August.

The event, held at the Brisbane Convention and Entertainment Centre, included 14 Doctoral graduates and the awarding of an Honorary Award as Emeritus Professor to Professor Kerry Reid-Searl for her contributions to CQUniversity as a nursing educator.

Out of the total 327 graduates, 303 completed higher education degrees, 16 completed research higher degrees, eight completed vocational qualifications, and of the total, 10 identified as being from First Nations peoples.

Chancellor Graeme Innes reminded the graduands that receiving their testamurs and graduating should be seen as a stepping-stone on a journey of lifelong learning.
Emeritus Professor Reid-Searl addressed the graduands, congratulating them on their achievements and called on them to stay true to themselves and their chosen career paths.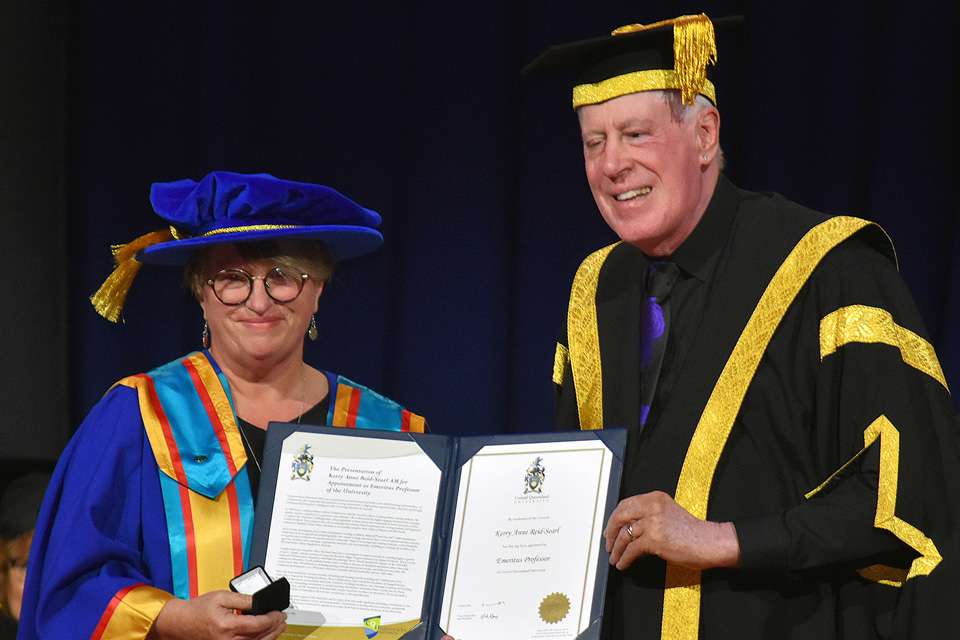 Among the graduands to cross the stage were 14 who received a Doctor of Philosophy:

- Ronald Bishop: Exploring Mental Workload in Aviation Training

- Mario Bojilov: Methods for Assisting in Detection of Synthetic Identity Fraud in Credit Applications in Financial Institutions

- Natalie Christine Clohesy: Patient Reported Outcome Measures (PROM) in Chiropractic Practice in Australia: Can targeted education, designed to enhance knowledge and understanding, promote clinical behaviour change and result in increased PROM utilisation?

- Meagan Emily Crowther: Making the shift work: Changes in, interventions for, and factors associated with, health behaviours in shift working populations.

- Arlene Agnes Ferguson-Somerville: Couldry meets Bourdieu: media meta-capital, symbolic violence, and the 'hidden persuasion' of print newspaper populism during the 2016 Brexit referendum campaign.

- Nancy Greer: Experiences with esports betting and skin gambling: exposure, access, motivations and impacts.

- Theresa Mary Harvey: The lived experience of undergraduate health discipline students who participate in a short-term study abroad program

- Katya Shao Yan Kovac Le Cornu: A mixed methods investigation into sleep inertia management for emergency service personnel

- Katrina Lane-Krebs: The bricoleur: Rechoreographing lives - rewriting the master script. The phenomenon of mothering as described by Mothers of children living with spastic cerebral palsy

- Linda Maree Leonard: Psychologist and client understandings of the use of dream material in psychotherapeutic settings 

- Ainslie Murtikos: Lost voices in an aged care system gone wrong: A narrative inquiry.

- Judi Margaret Newman: What are the attributes of inspirational leadership? A case study of principals of four large schools in Queensland.

- Ulrike Sturm: Exploring time and place: An investigation of the influence of place on creative identity.

- Geoffrey Webster: An Explorative Study of Local Area Marketing Techniques Used by Australian Small to Medium Enterprises

The Graduates' Representative Speaker was Bachelor of Laws with Distinction Tammy Wray. 

PHOTOS