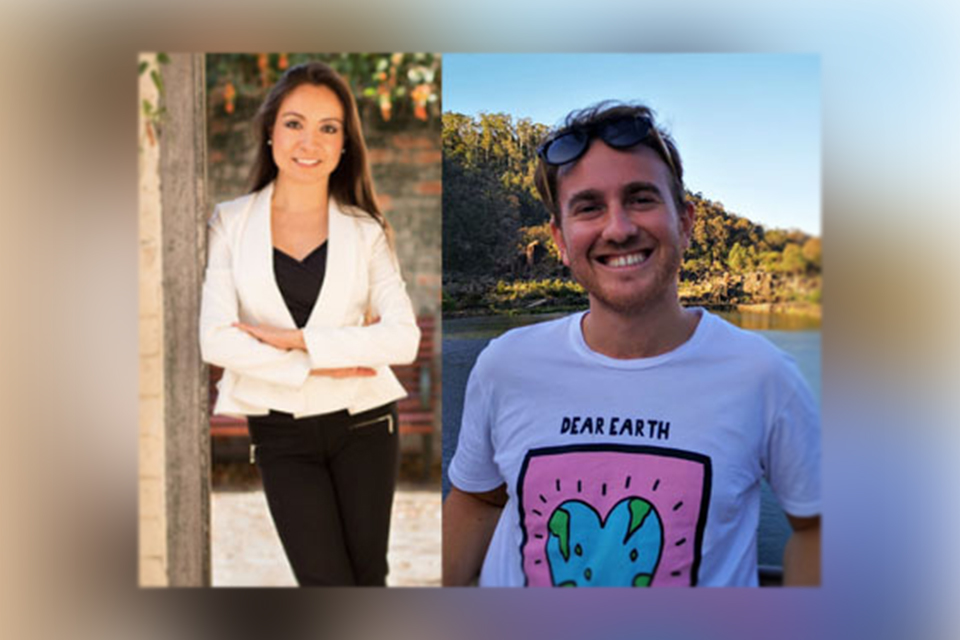 CQUniversity students Dr Isabel Franco and Cristian Campos believe their decision to move to Australia to pursue their aspirations was the best one they ever made, and as recipients of a new CQUniCares scholarship, their futures are only about to get a whole lot brighter.
The Master of Business Administration (Leadership) (MBA-L) students were recently awarded CQUniCares Lord Mayor's Multicultural Business Scholarships. The Scholarships are made possible by Brisbane City Council through the Lord Mayor's Multicultural Round Table and are the first to be awarded in partnership with CQUniversity.
Associate Director Academic, Social Innovation and Head of Course, Dr. Tobias Andreasson said, "I am really excited about Isabel and Cristian receiving this scholarship, because it demonstrates that Brisbane City Council is a forward looking city that understands how important it is for innovation, entrepreneurship and social impact to include diverse views and experiences – an important element of our MBA (Leadership)."
CQUni panel member and Development Manager – MBA (Leadership), Dr. John Cokley added, "both Isabel and Cristian showed the drive and enthusiasm and 'big-picture thinking' I have noticed among multicultural business owners and I think they'll bring so much to the table."
Dr. Franco moved to Australia from Colombia after struggling to find access to education and gainful employment. After she arrived, her savings quickly ran out, but in her desperation, she managed to find people to invest in her education and she secured a PhD.
"My PhD opened doors for me. My dream of working for the United Nations came true and I have worked and lived in geographical contexts as diverse as Japan, Thailand, Zambia, Angola, Colombia, Chile and Peru," she said.

Now a Sustainability Strategist, Isabel said her choice to study CQUni's MBA (Leadership) was driven by the fact that her original situation was not unique.
"Through my research, I came to understand that many other women in Latin America – particularly those living in developing resource-rich regions struggle to access education, employment opportunities, and other forms of human capital and women in other resource-rich regions of Africa and Asia experience the same reality," she said.
"I am confident the MBA (Leadership) will equip me with the leadership skills required to make a sustainable impact on women and other multicultural, vulnerable groups. I am particularly interested in helping women from diverse backgrounds access quality education internationally and I truly hope I can collaborate with Brisbane City Council and CQUniversity in achieving this goal."
"By awarding me the 2020 CQUniCares Lord Mayor Multicultural Business Scholarship, CQUni and the Brisbane City Council have invested in my professional development and the multicultural community in Brisbane, who will also benefit from my contributions in the long term. Your generosity has inspired me to continue helping others and making a sustainable impact at the local and global levels."
Cristian, who originally hails from Argentina, now works as Co-Director of Systems for the Australian Indigenous Mentoring Experience (AIME) and runs his own digital agency, ulak.design.
Driven by an interest in communications technology as a child and inspired by his father and grandfather's work in telecommunications, Cristian began studying information technology (IT) and worked as a teacher, teaching computers to young children for a time.
His interests moved to mobile phones and app development, which eventually lead to him moving to Australia in 2017 to take up his job with AIME in order to advance his career further.
He said the scholarship has helped him cover the costs of the MBA (Leadership).
"I feel incredibly grateful for being able to start this MBA (Leadership) with the support of this scholarship," he said.
"What I'm already learning is already inspiring me to change and keep improving the communities that I'm involved in."
"I've always been on the technical side of the industry and recently at AIME, we started to grow a team of 13 developers which I had to lead."
He said he hoped to keep growing ulak.design to be positioned globally from Brisbane and also keep helping for-purpose industries, where technology can be used for good.
About the new partnership with Brisbane City Council, Dr. Tobias Andreasson said, "The CQUniCares Scholarship program changes lives and we are so grateful to partner with organisations like Brisbane City Council and the Lord Mayor's Multicultural Round Table who share our passion for making a difference in the lives of our students, their families and our communities."
Brisbane Lord Mayor Adrian Schrinner said: As the son of a business owner who migrated to Australia, I truly believe the power of education transforms lives."
"The Lord Mayor's Multicultural Business Scholarship Program and Mentoring Scheme in partnership with the CQUniCares Scholarship program is proud to offer these new growth opportunities to multicultural business leaders and owners and to accelerate them on their career journey," Cr Schrinner said.