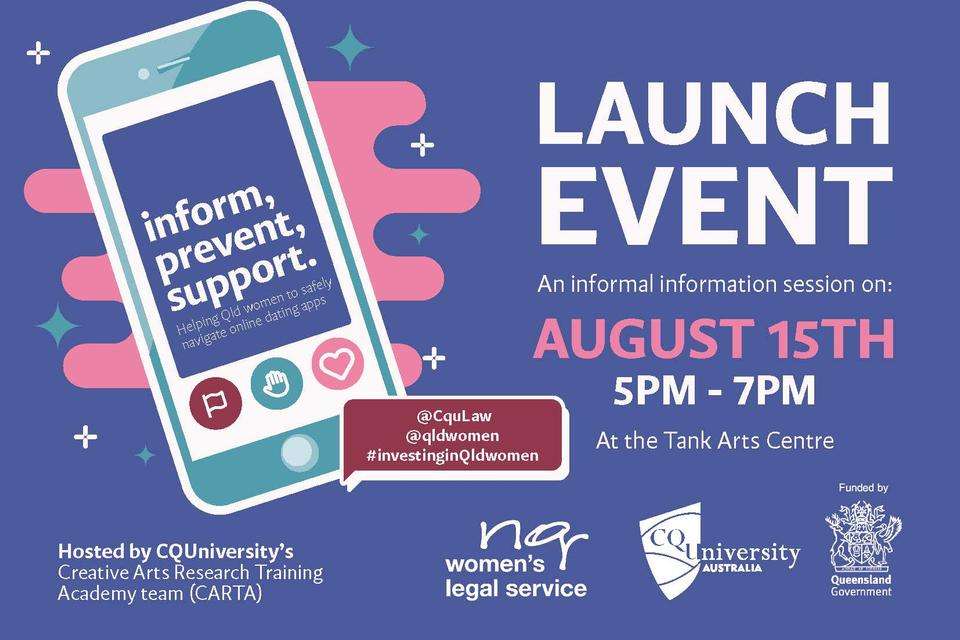 A groundbreaking initiative led by CQUniversity researchers is helping to support and safeguard Queensland women as they navigate the world of online dating apps.  
The project titled Inform, Prevent, Support: Helping Queensland Women to Safely Navigate Online Dating Apps, is a collaboration between the North Queensland Women's Legal Service, CQU lecturers, Dr Emma Turley, Dr Nichola Corbett-Jarvis and Dr Jan Cattoni, with support from the Queensland Department of Justice and Attorney-General.
 Dr Emma Turley said the project is a significant step towards fostering a safer online dating environment.
"By promoting awareness, providing prevention strategies, and offering support, Inform, Prevent, Support aims to create a positive impact on women's experiences in the digital dating world," she explained.  
"We want to equip women with the knowledge on how to protect themselves from potential risks associated with online dating."
In response, the team produced a set of video resources, specifically designed to empower women to make informed decisions and navigate online dating apps safely. 
Three short films will be officially launched at a special creative arts event hosted by CQUniversity's Creative Arts Research Training Academy team (CARTA) on August 15.    
The event will take place at the Tanks Arts Centre in Cairns and will feature an engaging program of discussions and presentations.
Dr Turley explained that the need to develop these resources emerged after prior research on public perceptions of sexual consent apps in Australia highlighted the intersection between sexual assault, dating, and technology.
"Our previous research highlighted the importance of addressing the safety concerns surrounding online dating apps.   
"From this, we saw the Australian Institute of Criminology's research on technology-facilitated violence and realised that our next project should focus on dating safety via technology more broadly," she said.  
"We also drew insights from a PhD student of mine working at Queensland Corrective Services, who is exploring the use of dating apps by perpetrators of sexual assault to target victims.  
"The student reported a disturbing increase in such behaviour, further reinforcing the urgency of this project."   
As technology-facilitated violence has become a concerning issue, Dr Turley said the project team believes the newly launched video resources will serve as an invaluable tool for women.  
"The creation of these resources would not have been possible without crucial funding from the Department of Justice and Attorney-General's Office for Women and Violence Prevention," she explained.  
"Our partnership with North Queensland Women's Legal Service has also been instrumental in ensuring that the resources address the specific needs and concerns of Queensland women."