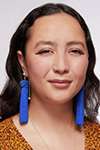 Caitlin was working as a support worker for victim-survivors of domestic and family violence, and while the training she received in this role was phenomenal, it wasn't enough. She chose CQUniversity because of its connection with industry leaders and student-centered teaching style.
Graduating with a Master of Domestic and Family Violence Practice opened up a world of opportunities for Caitlin. She has progressed her career from her previous support worker role to a high-level Government position. Her current job predominantly involves engaging with stakeholders to inform Government policy development. She writes Government policy that directs public servants on their role, establishes processes, and sets relevant standards for the Victorian community.
Caitlin says her university journey was a valuable opportunity for professional and personal growth, being exposed to information, ideas, and leaders in her field.