The Professional Doctorate (Transdisciplinary Studies)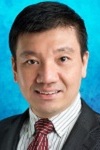 Dr Chang is the Regional Director of Customs Brokerage Services for the Asia Pacific of GEODIS Logistics based in Singapore. He has been involved in international logistics since 1996, and spent a few years working overseas in Shanghai, Hong Kong and Tokyo from 2005 to 2009.
Dr Chang completed a Professional Doctorate program with Central Queensland University with a research project in International Customs Management. His current responsibilities include negotiating with senior government officials and Customs Administrations in various markets and countries within the Asia Pacific region to establish strategic cooperation, seeking reform and improvement for trade facilitation, as well as providing innovative customs clearance solutions to large and small customers to achieve 100% regulatory compliance, customer satisfaction and cost optimization.
Dr Chang is highly engaged with CQUniversity, including attending Alumni events, meeting with local and travelling CQUniversity staff and mentoring current students as well as receiving his regular Alumni newsletters.
Thesis title: Organizational Flexibility - A Flexible Customs Organizationational Flexibility - A Flexible Customs Organization