Master of Professional Accounting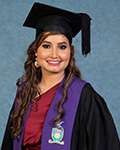 Studying in Australia was initially daunting for Niruta, but the reward in terms of education and personal development was well worth it. The degree has enabled her to gain an advanced understanding of taxes and business strategy, financial reports and business analysis, and financial accounting systems in Australia.
Before coming to Australia, Niruta studied a Bachelor of Business Administration in Nepal and worked as an assistant accountant at a commercial bank. Since the beginning of her career, she has committed herself to banking and accounting-related disciplines. This led her to pursue further study in Australia.
Niruta is actively seeking opportunities to utilise her knowledge and skills in accounting, banking, or finance-related disciplines. She hopes to develop herself both personally and professionally to utilise the learnings achieved from her Master of Professional Accounting qualification.