Bachelor of Arts
| | |
| --- | --- |
| Duration | 3 years full-time, 6 years part-time |
| Location | Online |
| Next start term | Term 1, 2024 |
| Study mode | Online |
| Course code | CA10 |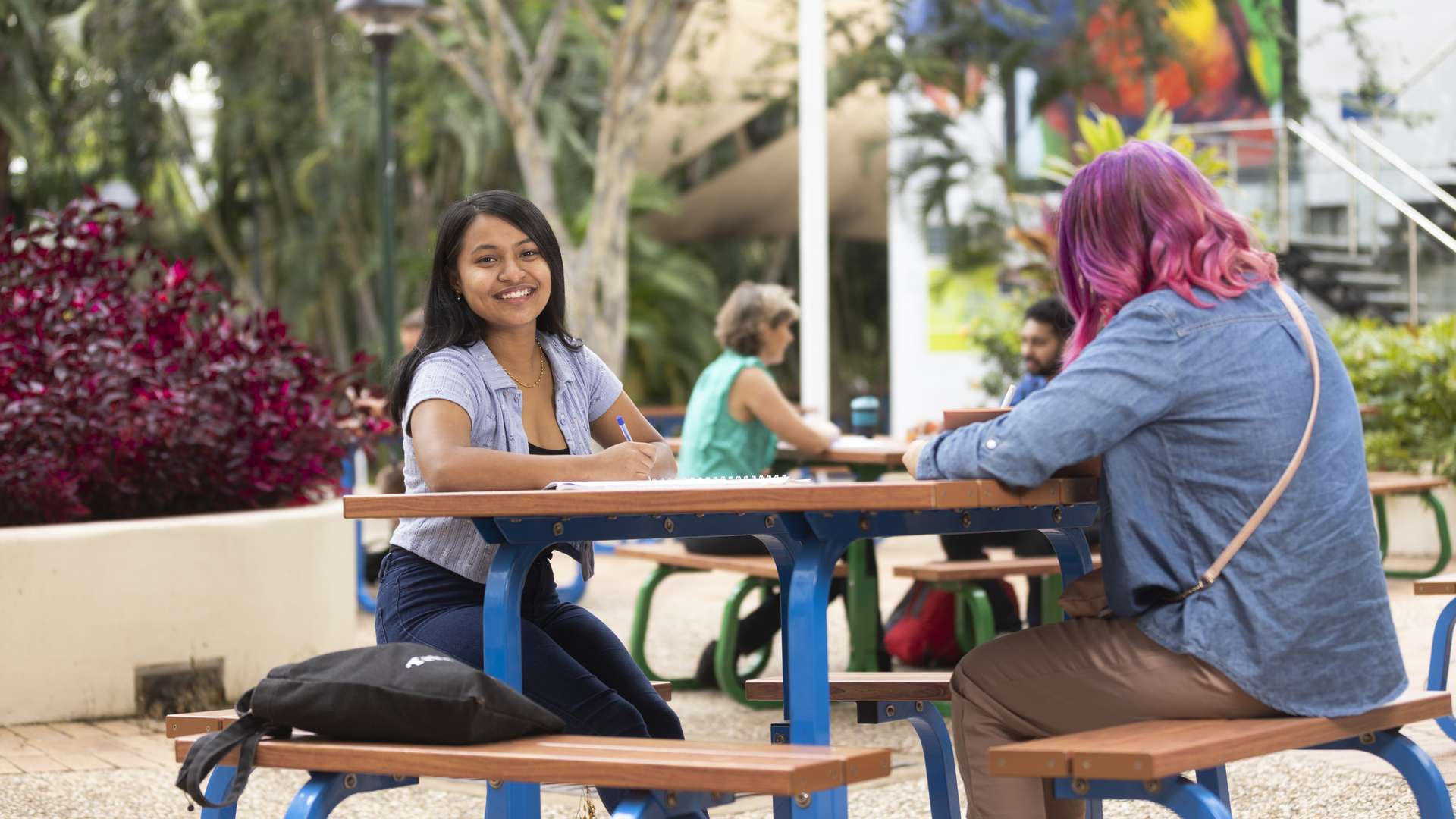 Overview
Study the Bachelor of Arts to equip yourself with a multidisciplinary education in a range of humanities and social sciences disciplines. Discover unlimited choices in exploring your passion and interests.
The Bachelor of Arts provides you with a varied and multidisciplinary education, as well as the opportunity to gain knowledge in a range of humanities and social sciences disciplines.
You will experience a variety of perspectives, methodologies and learning styles and explore disciplines that study the way humans recognise, record and debate human practices, meanings and values. This will aid you in developing a contemporary understanding of both the human condition and how society operates.
You will benefit from the flexibility to structure your course to suit your career aspirations and interests with a wide variety of majors and minors to choose from.
Study experience
Authentic Learning Experiences
Career Opportunities
The skills and knowledge that you gain within the Bachelor of Arts are transferrable across a wide range of industries and professions. You will gain life-long skills in creative thinking, critical reading, critical thinking, effective writing and communication skills, developing clear and cogent arguments, research, data analysis, understanding intercultural relationships, social justice, cultural heritage and environmental planning. These skills are regarded highly by those who recruit university graduates for government departments and various large companies and are beneficial to roles across a range of businesses and industries.
Explore endless career possibilities such as roles within government agencies, administration, publishing houses, environmental planning and management, media, journalism, libraries, museums, galleries, not-for-profit organisations, private companies, teaching, town councils, disability services, community sector organisations, youth workers and universities.
Structure & Availability
Course structure
You are required to complete 24 units that consist of four core units, two eight-unit majors and one four-unit minor.
Majors/Minors 
Align your interests to suit your career goals. The below clusters provide you with a guide to choosing major and minor combinations. 
Teaching
When followed by the Master of Teaching (Secondary) the Bachelor of Arts is an ideal option if you are seeking a career as a secondary school teacher. You will develop deep and extensive discipline knowledge that will be invaluable in your teaching career, and both courses, when studied sequentially, can be completed within 4.5 years of full-time study.
Telling stories, media, publication relations
The creative writing, media, journalism and public relations options provide you with well-rounded and relevant professional communication skills that are valuable and transferrable to any industry.
Geography and environmental management
The environmental management and geography options prepare you for a wealth of career opportunities in professions such as environmental planning and policy, natural and cultural heritage and town planning.
Creative arts
The visual arts and theatre studies options allow you to develop skills, knowledge and experience in creative arts and combine this with professional practices to ensure you graduate with valuable and transferrable skills for a career in creative arts.
History
Studying history gives you skills in analysing, contextualising and synthesising information. Combined with other areas of study, these skills open the door to employment opportunities in libraries, museums and galleries.
Unit information
For information on the units, you could study as part of this course, visit the Handbook and select the "Course Structure" tab.
Credit transfer information
If you have already completed a study relevant to the course you have enrolled in, you may be eligible for credit transfer.
Online Availability
| Intake | Locations |
| --- | --- |
| Term 1, 2024 | Available Online |
| Term 2, 2024 | Available Online |
Majors
Creative Writing 
Do you have a passion for writing? Our Creative Writing major allows you to develop the skills and knowledge needed as a writer in the digital age. You will develop a tool kit of writing styles and genres, including traditional fiction, non-fiction, poetry and scriptwriting, and experimental and hybrid genres such as speculative fiction, flash fiction, lyric essays, docufiction, and concrete poetry, among others.
English and Cultural Studies
This major brings together two distinct but complementary disciplines: literary studies, where literature is read for its own sake and for the values it reveals in stories, poems and plays about our lived and imaginary experiences, and cultural studies, where ideas and concepts derived from a broad study of culture are explored through a variety of texts including film, media, television, advertising and the like. You'll learn to apply critical thinking across various genres and participate in thoughtful debate.
Geography
You'll explore Australian geography and climate whilst forming practical skills with Geography Information Systems (GIS). This major also extends your knowledge into human geography, demographic analysis and sustainable environments.
History and Politics
This major offers a rich exploration of the historical events, politics, conflicts, cultures, values and traditions that have shaped our modern world.
Journalism
This major introduces you to journalism and media relations, preparing you for a career in a range of genres. You'll graduate with foundational knowledge, including legal and ethical journalism, plus how to frame the narrative and write for various settings.
Liberal Arts
The Liberal Arts major is available to gain credit for studies you may have completed in another course. Approval from the Head of Course is required to access this major.
Pathway to Teaching (Early Childhood)(Primary) (Secondary)
If you're considering becoming a teacher, choose from our Pathway to Teaching majors in Early Childhood, Primary or Secondary Teaching. These majors are designed to fast-track you to our Master of Teaching, where you can apply for four units of credit.
Public Relations
You'll learn key concepts surrounding crisis communications, celebrity public relations, media industries, social media and society, ensuring your ability to communicate effectively within an organisational environment. As a graduate, you may find employment in employee relations, reputation and crisis management, media, content management, event management, communication strategy, and product development.
Theatre Studies
You'll explore medieval theatre, commedia dell'arte, Shakespeare and modernism and contemporary Australian and international theatre plays and practices. Plus, you'll master theatre methods and develop your creative approach.
Visual Arts
Expand your horizons with the study of self-expression and exploration through visual art. With visual art, you will seek out the connection between culture and society. Plus, you'll learn to analyse how culture impacts us as individuals and develop professional skills to connect with the art infrastructure.
Minors
Digital Storytelling
This minor introduces you to fundamental skills in visual design, digital video production, and narrative and documentary filmmaking techniques.
Discovering Theatre
Explore the origins of theatre, musical theatre, Australian drama and comedy's evolution within theatre in this minor.
Environmental Management
You will learn the big picture around why an organisation needs an environmental conscience. You'll explore Australian Government environmental legislation and develop essential skills such as impact assessment to help any organisation live up to its environmental license to operate.
Essential Geography
This minor introduces human geography themes, Australian geography, Geographic Information Systems (GIS) tools and Australian weather and climate.
First Nations Studies
In this minor, you will engage with colonialism taking you into the national context of First Nations Australians and perspectives in interface with non-Indigenous power and authority. You will develop skill sets to critically investigate, argue and interpret issues around identity, nationalism and power and to question issues and approaches that purport to be about 'reconciliation'.
Liberal Arts
The Liberal Arts minor is available to gain credit for studies you may have completed in another course. Approval from the Head of Course is required to access this minor.
Literary Studies
Explore the complexities and delicacies of a variety of literary genres. You will also develop analytical skills and new perspectives to enhance your literary practices.
Strategic Communication
Strategic Communication is about using communication techniques with purpose. This minor shows you how to craft a message for a specific audience to ensure the message is received as intended and can be acted upon.
Visual Art Practices
Expand your horizons with the study of self-expression and exploration through visual art. In this minor, you'll work in a studio, think critically and engage in creative processes to develop a portfolio of your contemporary artworks.
Working with the Media
This minor will introduce you to the world of the media, from traditional to contemporary forms of journalism. You'll learn how the media operates, what they want and what makes the news.
World History
This minor introduces you to world histories, including ancient, medieval, modern and twentieth-century eras.
Writing Stories
Calling all storytellers, this minor helps you to develop and refine your skills in writing engaging works for different audiences and markets.
Journalism Project - COMM13110
Students who choose the journalism major will have the opportunity to undertake a work placement of 120 hours in a media related field.
Public Relations Project - COMM13111
Students who choose the public relations major will have the opportunity to undertake a work placement of 120 hours in a public relations related field.
Professional Practice and Experience - BUSN13004
This work-integrated learning will involve a placement in an organisation loosely related to one of the BA discipline majors. For example, a work placement in a museum.
Requirements
English (Units 3 & 4, C) or equivalent
English Language Proficiency Requirements
If you were not born in Australia, Canada, New Zealand, United Kingdom, Ireland, South Africa or United States of America, you are required to meet the English Language Proficiency requirements set by the University.
Applicants are required to provide evidence of completion of:
A secondary qualification (Year 11 and 12, or equivalent), or
An Australian Qualifications Framework (AQF) diploma level qualification, or
Bachelor level qualification study for a period of at least 2 years fulltime with a minimum overall GPA 4.0
completed within Australia, Canada, New Zealand, United Kingdom, South Africa, Ireland or United States of America, which will meet the English proficiency.
If you do not satisfy any of the above, you will need to undertake an English language proficiency test and achieve the following scores:
An International English Language Testing System (IELTS Academic) overall band score of at least 6.0 with a minimum 5.5 in each subset; or
Test of English as a Foreign Language (TOEFL) - Requires 550 or better overall and minimum TWE score of 4.5 (Paper Based Test), or 75 or better overall and no score less than 17 (Internet Based Test); or
Pearson Test of English Academic (PTE Academic) - Requires an overall score of 54 with no sub-score less than 46; or
An Occupational English Test with Grades A or B only in each of the four components.
English test results remain valid for no ore than two years between final examination date and the date of commencement of study, and must appear on a single result certificate.
International Students should visit http://www.cqu.edu.au/international for further information.
Each student will be assessed individually.
There are no implications for students in regard to security requirements.
You will have to meet this course's
inherent requirements
by demonstrating essential skills and attributes.
Fees & Scholarships
2023 Indicative Fees
| Fee Type | Fees |
| --- | --- |
| International Indicative First Term Fee | A$15,270 |
| International Indicative First Year Fee | A$30,480 |
2024 Indicative Fees
| Fee Type | Fees |
| --- | --- |
| International Indicative First Term Fee | A$15,840 |
| International Indicative First Year Fee | A$31,380 |
Please note the following important information:
Fees are in Australian dollars (A$).

Fees are indicative only and do not cover additional costs such as textbooks, accommodation, visa applications, OSHC, general living etc.

F

ees are based on a full-time study load and the final fee payable will be determined by your selection of units and if any credit was awarded for recognition of prior learning.
The University reserves the right to amend fees at any time during the course. Fees are reviewed yearly and may increase in the following year to enable CQUniversity to continue to provide quality services and facilities to students.
Courses are subject to change at the discretion of the University.
It is your responsibility to make yourself aware of the entry requirements and prerequisites of the courses you wish to undertake.

The typical annual fee shown provides an estimate of the tuition fees for the first year of the course in the same academic year. This estimate assumes a full-time study load of 4 units per term (based on two terms).

S

tudents not on an Australian student visa can only undertake courses online from an overseas location

.

C

ourses undertaken online may be studied on a full-time or part-time mode.
International students studying on-campus in Australia may take no more than 33 per cent of their entire course by online education, and this option cannot be taken in its entirety during a compulsory term (Term 1 and Term 2).
Please refer to our international course fees page.
Scholarships are not available for this course.
How to apply
Our easy to use online application system for international students will guide you through the process of applying for a course at CQUniversity Australia.