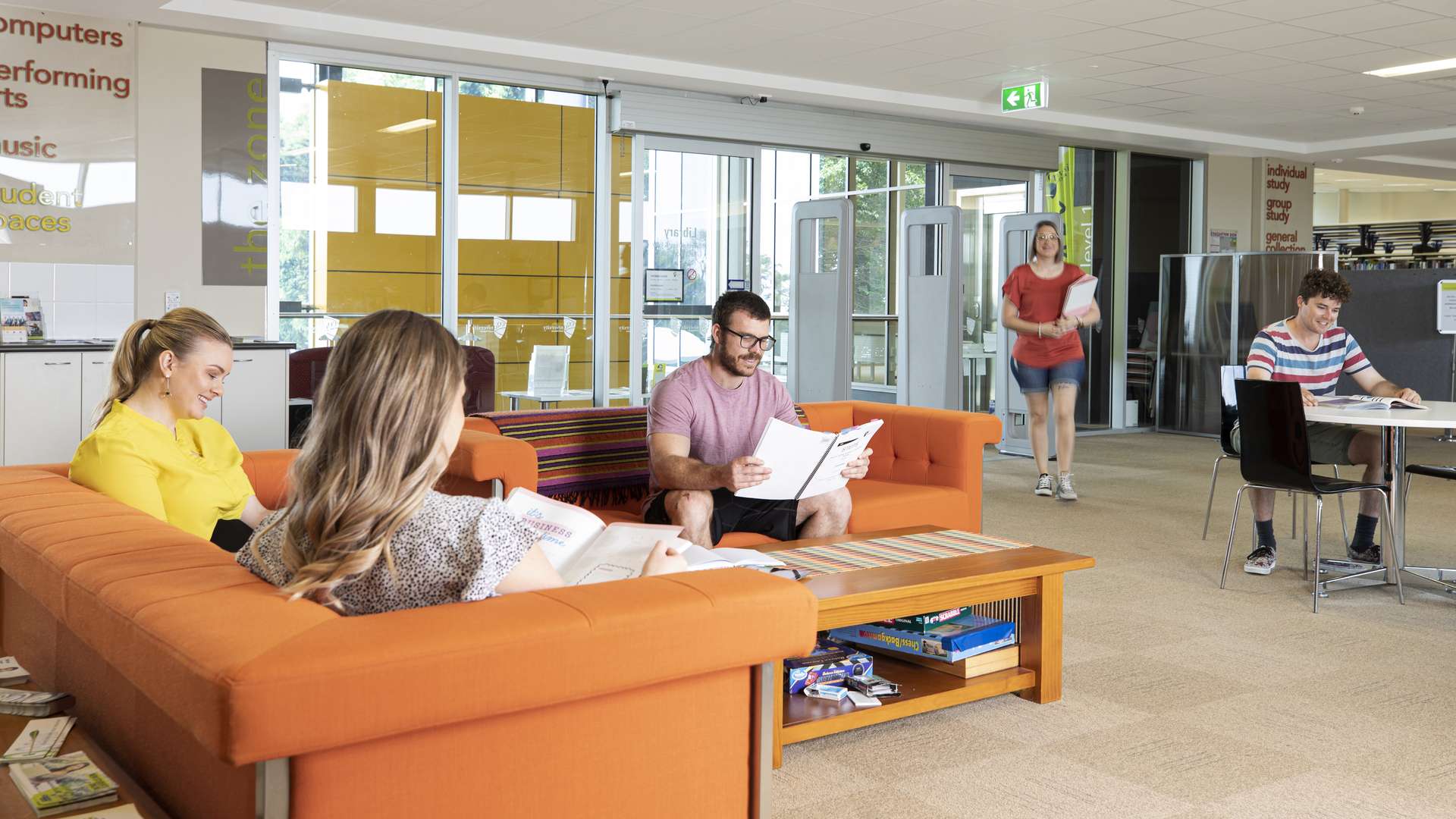 The Mackay region boasts two complementary campus locations. The first, Mackay Ooralea Campus, was initially established in 1992 and now houses a purpose-built $46m Trades Training Centre.  
The Mackay Ooralea Campus serves as a base for hundreds of students and staff within the Mackay community. It boasts a wide range of facilities, including lecture theatres and performance theatres, trade training workshops, computer and nursing laboratories, video-conference rooms, recording studios, student accommodation, a bookshop, a refectory, a library, and much more. 
The second campus, conveniently located on Sydney Street in the heart of the Mackay CBD, was the former CQ TAFE campus prior to the merge in 2014 and offers a wide range of study options from certificates and diplomas to undergraduate courses.  
Facilities available on the campus include extended hours computer laboratories, a training restaurant, a hair dressing salon, a beauty salon, gym, library and student common areas. 
Located on the Queensland coast, just under 1 000 kilometres from Brisbane, Mackay region offers a humid tropical climate and a busy, growing small city experience. The local economy, founded on the sugar cane industry, now also includes mining and tourism as key exports with other industries in the city including marine, and retail.
The region has a wealth of activities for students to choose from including the bluewater trail which offers over 20 kilometres of pedestrian and cycle ways, arts festivals, artspace and a vibrant CBD which includes numerous quality restaurants, cafes and eateries and good retail options.
Other attractions include patrolled beaches, a vibrant marina, architecture and the botanical gardens.
The city has a lively sporting scene with which includes rugby league, Australian rules football and basketball. The city is also home to excellent educational facilities including both public and private schools and a base hospital.
Professor Rob Brown
Rob is responsible for the management of the campuses and relationships with key stakeholders across our two campuses in Mackay and Townsville. Rob is committed to working with the community and industry to establish mutually beneficial partnerships that contribute to the development of the region. Rob also oversees the University's Regional University Centre program, and holds the BMA Chair in Automation and Future Skills.
Rob holds a doctorate in Higher Education Strategic Marketing, a Master in Education (TESOL) and a Master of Business Administration – bringing more than 25 years of high-level Australian universities' experience to CQUniversity.
Rob is always open to discussions with industry and community leaders about how the University can respond to education, training and research opportunities and to organise work placements and other opportunities for our students.
To make an appointment to see Rob please contact him via email r.m.brown@cqu.edu.au.
The success of our Mackay campus relies on our strong and continuing ties to our local community. The campus is keen to ensure that our students benefit from career and volunteering opportunities, social activities and exposure to a range of diverse experiences.
The local campuses cover a wide variety of vocational and professional areas and staff and students are encouraged to engage with their local industries to enhance our course and the student experience.
Contact Rob Brown to discuss how your group or industry could benefit from involvement with our Mackay campuses and students r.m.brown@cqu.edu.au.
Mackay City
Extended hours computer laboratory
Training restaurant
Hairdressing salon
Beauty salon
Student common areas
Wireless Internet
Library with photocopying and printing facilities
Student support services
A food outlet on campus provides a variety of food and drinks; drink and food items can also be obtained from vending machines
Extensive car parking
Multi-purpose sports facility with half basketball court and full volleyball court
Indoor Gym
Chiropractic Clinic
State of the art Clinical Learning Centre (Nursing Laboratories)
Mackay Ooralea
State of the art lecture theatres featuring the latest presentation and audio-visual equipment
Trades Training Centre including purpose-built workshops
High-tech multimedia labs
State-of-the-art Medical Imaging and Science Laboratories
24-hour computer laboratory access
Wireless Internet
Purpose built 200-seat proscenium theatre with full height fly-tower and 17 fly lines on a 12-metre deep stage including professionally equipped lighting and sound
Music teaching studios and practice rooms
Recording Studio
Gym
Photocopying, scanning and printing facilities
State of the art library facilities with access to an extensive array of online databases and special use drama and music theatre collections so students are able to source the latest information in their chosen fields
Student support services
A food outlet on campus provides a variety of food and drinks; drink and food items can also be obtained from vending machines
Table Tennis Table/Pool Table/Gaming Equipment
On-site accommodation at Mackay Residential Canefield College
Extensive car parking
State-of-the-art Engineering Precinct
Transport
Airlines, coach companies and Queensland Rail provide daily services to and from Mackay. Most suburbs within the city limits are serviced by some form of public transport. Mackay Transit Coaches operate Monday to Friday, excluding public holidays. Mackay Taxis provide a Taxi Transit service that allows people to share transport from their homes to popular destinations for the price of a normal bus fare.
Community
Accommodation
Accommodation options include:
Schooling
Transcript
[text on screen]
CQUniversity Mackay.
Library facilities.
With an extensive array of special use drama and music theatre collections.
Lecture theatres.
Refectory with  table tennis, pool tables and gaming equipment.
Stat-of-the-art Medical Imaging and Science Laboratories.
Engineering precinct.
With state-of-the-art laboratories and engaging learning spaces.
Trades Training Centre including purpose-built workshops.
Central Queensland Conservatorium of Music.
Purpose built 200 -seat proscenium theatre.
Digital media production facility.
With control room and sound-recording booth.