School of Nursing, Midwifery and Social Sciences
Medical and Health Sciences
Associate Professor Joyce Hendricks, Dr Julie Bradshaw, Assistant Professor Kasia Bail
dorika.nhongo@cqumail.com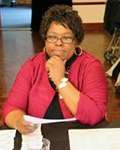 Research Details
Thesis Name
HELP ME I AM DROWNING: Leadership and the after-hours Registered Nurse working in Residential Aged Care in the Perth Region in Western Australia.
Thesis Abstract
Given Australia's ageing population with increased complexity and comorbidy, the workforce providing their care is of interest. This is particularly important with those individuals living in residential aged care facilities who may be most vulnerable to care fluctuations. Variations in care quality are increasingly being investigated 'after hours', as this is a key time when there are reduced staffing levels, as well as reduced levels of supervision and support staff. Registered Nurses lead care in RACFs, providing expertise in caring for older people and managing risks to the residents' health and safety. RNs utilise a combination of knowledge and experience to work independently and to lead and delegate care to unregulated healthcare workers and Enrolled Nurses (ENs), who then provide clinical and support care to residents. Yet, opportunities for further education and development of RN leadership are known to be limited and the actual confidence and competence of RN leadership skills in Australia is unknown.
Why my research is important/Impacts
The RN in aged care after-hours requires confidence and competence in undertaking the role to ensure quality resident outcomes. The development of leadership programs specific to the RN in aged care needs attention to promote the capacity to lead after-hours when skill mix is largely comprised of unregulated health care workers.