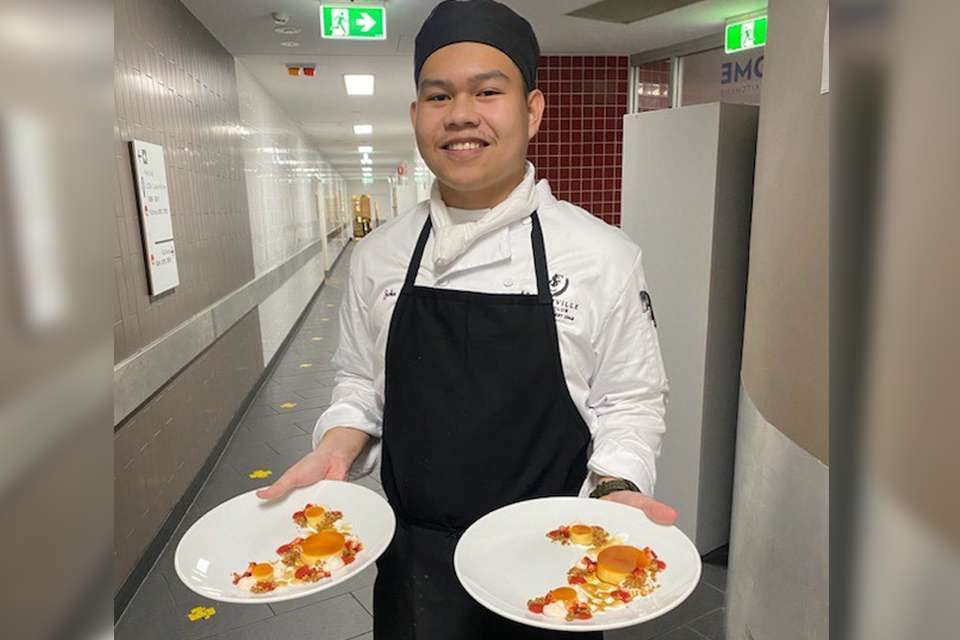 Rockhampton apprentice chef John Juguilon has received a bronze medal at the recent Nestle Golden Chef's Hat Awards, saying his CQUniversity training was one of the main ingredients for his success.
John, who is a second-year apprentice at the Frenchville Sports Club, competed in the Queensland South section on 22 July, and said he was proud to have received the bronze medal.
"When the medal announcement was made, I was really nervous if I would get a medal, so when my name was called for bronze, I felt relieved and proud of myself that I'd done well," he said.
The gruelling competition involved creating two dishes (mains and desserts) using ingredients based on the select shopping list provided. For the mains, every contestant had to include a pork mid-lion.
John said the training he'd received at the Frenchville Sports Club and in the Willby's Restaurant kitchens at the CQU Rockhampton City campus put him in good stead.
"When I was at CQU doing my practical assessments, it really helped me by giving me ideas on what dish I should make, some tips and tricks on how the competition works, and how to use my time wisely and efficiently," he said.
He said he also called upon his passion for cooking, which he's had since he was very young.
"I was really interested in cooking from a young age. I knew I really wanted to work in the kitchen because I loved cooking, the excitement stepping in the kitchen and the adrenaline rush when it gets busy," he said.
"I feel accomplished when the service is done. 
"If you really are passionate about cooking, I say go for it, look for any opportunities that would expand your knowledge, skills and your creativity and just go for it.
"CQU is really a good place to start, just ask for what's best and they will help you through."
After his achievement John said he now has plans to enter the Proud to Be a Chef competition in Melbourne next year.
Frenchville Sports Club Head Chef Att Kleidon congratulated John on his achievement.
"It was outstanding performance at by John at the Golden Chef's Hat Awards. He's put on a great show for such a young age," he said. 
"John's exceptionally good when it comes to food, and he's always thinking outside the box with food creation and presenting meals. The Frenchville Sports Club is happy that he is part of its catering team."
Learn more about Commercial Cookery at CQU.