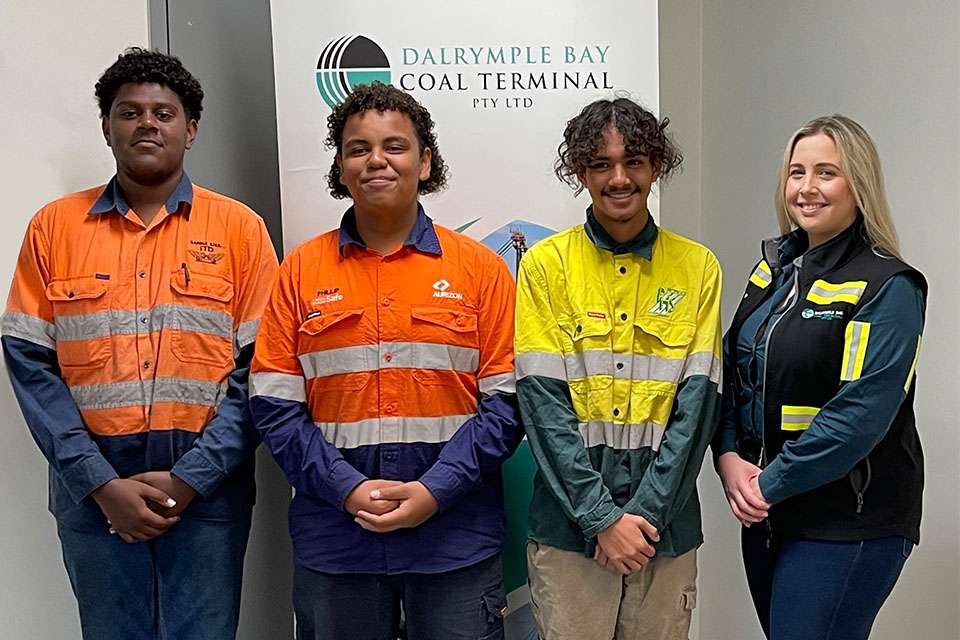 A donation from Dalrymple Bay Coal Terminal Pty Ltd (DBCT P/L) has helped First Nations CQUniversity students Levi Fallon, Keegan Zaro, and Xavier Anson-Kissier, secure vital Personal Protection Equipment (PPE) for their vocational studies.
In February last year, DBCT provided $5,000 to CQU for a bursary program designed to help Mackay-based First Nations students enrolled in the Certificate II in Engineering Pathways course.
Since it was launched, the bursary program has supported 21 First Nations students, with Levi, Keegan, and Xavier the latest students to receive $500 each during a presentation on 19 July. 
The funds not only helped with PPE but allowed the students to complete a White Card short course, in turn increasing their employability. The students also have the opportunity to undertake work experience at DBCT.
Levi thanked DBCT for selecting him as a bursary recipient.
"It is a really good feeling to have been selected from all the people who applied," he said.
"The money will definitely help me with my transport costs to be able to get out to the Mackay Ooralea Trades centre each week and also with the cost of some new PPE.  I may even put some of it towards the purchase of a laptop as I do not have one."
He said after completing Year 12 he hoped to enter into a boilermaking apprenticeship.
Keegan said he was grateful for the opportunity to undertake this course and to receive the bursary.
"This will help a lot. I can buy all the safety gear needed like safety boots and work pants.  It will also help with the costs to drive into Mackay for the course each week," he said.
"After I complete this course, I want to continue my studies to complete Year 12 and graduate from high school. After I graduate, I want to apply to the Navy and become a Navy Seal as a career."
Xavier said he enjoyed working on his Certificate II in Engineering at CQU.
"I feel great that I have received this bursary from Dalrymple Bay Coal Terminal. It will help me a lot with some of my education expenses, the cost of travel and to buy some safety gear," he said.
"When I have completed Year 12 and graduate from high school, I am hoping to get an apprenticeship as a diesel fitter. I would also be keen to work at Aurizon on the trains."
DBCT P/L CEO, Steve Rae, said the company recognised the need to support future workers, in particular groups that may face barriers to entering the workforce.
"We want to ensure young First Nations people in Mackay who have an interest in trades and engineering have what they need to be successful in this space," Mr Rae said.
"The White Card course, in particular, makes a lot of sense as it's a lifetime accreditation that removes a potential barrier to work experience and employment opportunities.
"We look forward to continuing to work with CQUniversity to support their First Nations students."