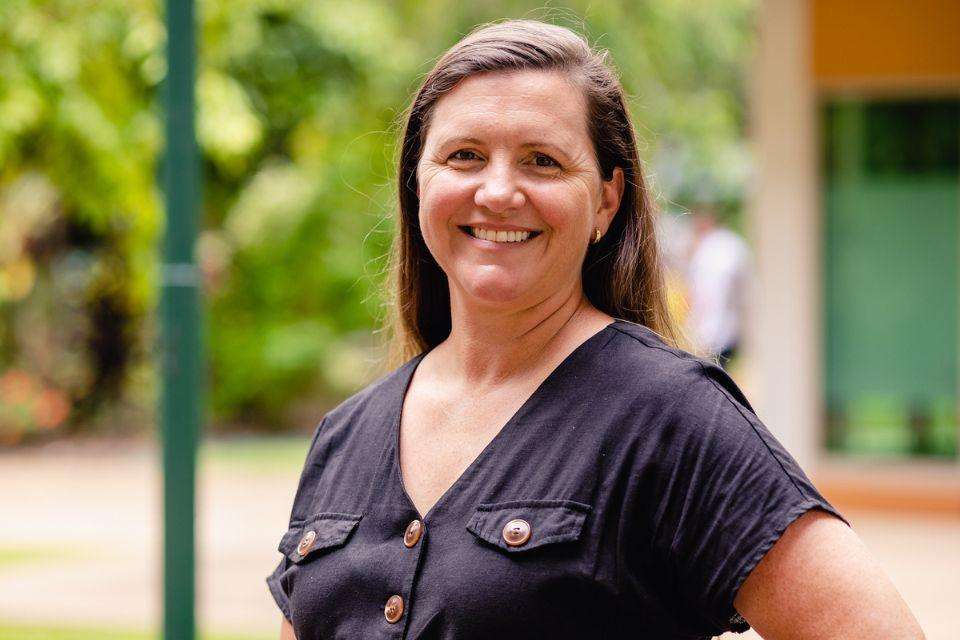 A passionate mum is driving family connection, community and sustainability for the Capricorn Coast region, and her dream to establish a local toy library is one step closer to reality, with help from CQUniversity's iActivate social impact program. 
Jillian Neyland moved to Yeppoon with her young family in 2018, after more than a decade as a science teacher and a busy mum in Alice Springs. 
"It was a big move, and we found one thing we really missed was our regular trips to the toy library in Alice, and excitement of something new to play with, and connecting with other families," Jill explained.
Two years after the move, and with the arrival of her fourth bub, Jill was again missing the simple system to borrow and return age-appropriate toddler toys, and reduce the environmental footprint of playtime. 
"In 2021 I started a Facebook group to gauge interest, and that certainly established there was a need," she explained. 
"We now have over 300 followers, predominantly mothers, and 70 per cent between 25-44 years old … so that shows the strong demand for a service like this for parents with young children.
"Around half of Capricorn Coast's 40,000 residents are families with children, and that demographic is growing as our affordable lifestyle attracts more young families."
Jill said with long waiting lists for child care, many children under four were missing out on vital play and social activity, a gap that a toy library would help fill, alongside stay-at-home-parent isolation, and financial stress challenges.  
With confidence in her idea, but not sure on next steps, in February Jill took her toy library dream to CQUniversity's iActivate social enterprise course, offered as a 14-week local accelerator. 
She credits iActivate, and weekly workshops to design and grow her organisation, with bringing the Capricorn Coast Toy Library to life. 
"The weekly accountability, and really creative ideas about business design, and measuring the potential impact of service, were vital in taking the next steps," she said. 
"We've just had the inaugural AGM, elected an executive, and are working towards our Incorporated Association status – which will pave the way for accessing grants, finding a space, and building our toy collection!" 
iActivate Central Queensland was the first of its kind in the region, thanks to support from the Queensland Government's $8 million Social Enterprise Jobs Fund.
Jillian joined alongside 16 other participants, who had big plans for waste upcycling, nursing profession support and development, mental health and wellbeing initiatives, and sustainable housing.  
The unique initiative is part of CQUniversity's social impact as Australia's only social enterprise university, and now an opportunity is available for women driving social impact across regional Queensland. 
Applications are open for iActivate: Regional Female Founder Accelerator, curated by women to address the specific challenges of business and social impact in regional Queensland. 
CQU Social Innovation Program Manager Ashley Clarke says the program has generous external funding, and offers an exciting and empowering opportunity to new and emerging female entrepreneurs.   
"Whether you're still in the early stages, with a seed of an idea, or less than five years into growing your business, the Regional Female Founder Accelerator gives you the skills, support and connection to grow and thrive," Ms Clarke said. 
The generous subsidy means each participant pays just $426 for the full program (valued at $1,540 per participant). 
"iActivate has made a huge impact in communities like Rockhampton, Townsville, Bundaberg, Cairns, and Toowoomba, where local people are tackling local problems with the social enterprises they designed and developed through the iActivate program," Ms Clarke said.
"We know the regions are full of passionate people who want to address the big issues in their communities, and this iActivate accelerator provides a new platform and network to help local women start building practical, creative' business-based solutions."
Applications close 1 August 2023, register your interest now!