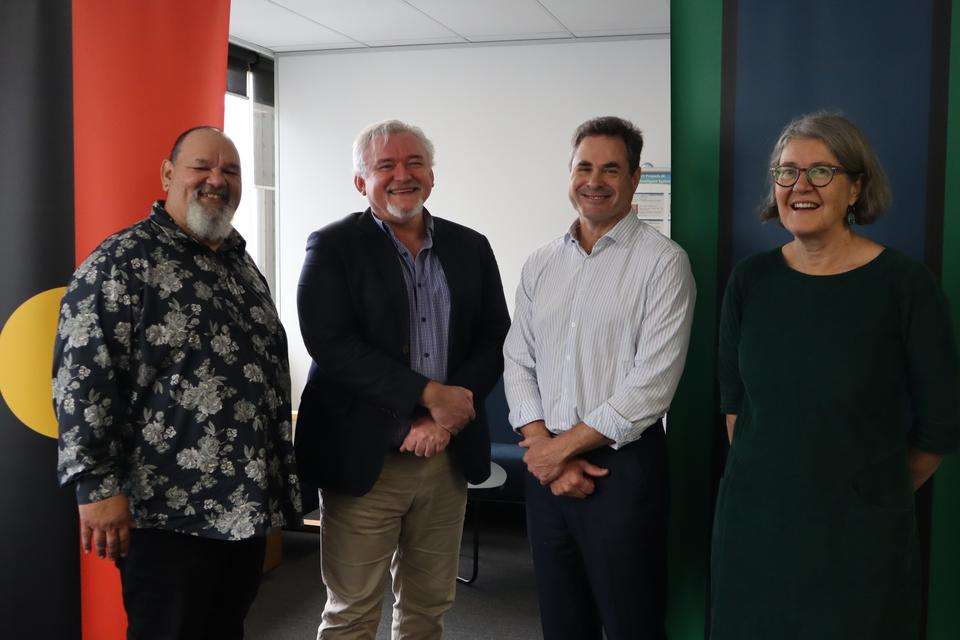 A prominent Indigenous research team led by Greg Pratt, has transferred from the Queensland Institute of Medical Research (QIMR) to CQUniversity's Jawun Research Centre, in a move that will see Jawun expand its reach into southeast Queensland. 
The team will now form a new research cluster to be known as 'Jingay' (jin-guy), which means telling each other something important in the Dyirbal language of North Queensland. 
Jingay will be based at CQUniversity's Brisbane CBD campus with the team to focus its research on mental health, genetics and genomics.
Greg Pratt, an Aboriginal man and descendant of Noonucal tribe of the Quandamooka people of Stradbroke Island, said that the move to become part of CQUniversity's Jawun Research Centre would help to build the capacity of his current team, and enhance their focus on research that is co-designed with end-users. 
"Our research stands apart because we place a firm focus on delivering projects that are community-led and community-driven," said Mr Pratt.
"We value being able to work with community to co-develop and align research priorities with their preferences and are driven to make a real-world difference.
"CQUniversity and the Jawun Research Centre are very much aligned with my own values as a researcher and the way in which my team likes to work with communities. 
"In joining Jawun, we believe we can further increase our research capacity and also support the development of new research talent through the CQUniversity Jilbay Indigenous RHD Academy that provides culturally-relevant support to Indigenous research higher degree students."
CQUniversity's Deputy Vice-President Indigenous Engagement, BMA Chair of Indigenous Engagement and Co-Director of the Jawun Research Centre, Professor Adrian Miller said that the establishment of the Jingay research cluster under Mr Pratt's leadership would help to further expand CQUniversity's commitment to First Nations research. 
"We are delighted to bring Greg Pratt and his highly regarded team of researchers on board as part of the Jawun Research Centre. 
"Greg has dedicated the last 12 years to First Nations research at QIMR, overseeing more than $25 million in research projects.
"He has a strong background in community engagement, here in Queensland, throughout Australia and across the world, to deliver critical research outcomes to benefit the health and wellbeing of First Nations Australians," said Professor Miller.
Dr Janya Mccalman, Co-Director of the Jawun Research Centre added that the expansion of the centre to incorporate a new research cluster would help to enhance Jawun's research capacity and geographical reach. 
"Jawun is headquartered in Cairns but with the addition of the Jingay research cluster in Brisbane, we will be able to significantly expand our reach across Queensland.
"The Jingay research cluster will help to build upon existing work delivered by Jawun while also bringing with them an important portfolio of current research projects and grants.
"We are very much looking forward to working with Greg and his team to continue emphasising the importance of partnership as an effective solution to holistically and strategically addressing community identified health needs of Aboriginal and Torres Strait Islander peoples," said Dr Mccalman. 
The Jingay team will initially be made up of six researchers with specialist skills in project management, community consultation and engagement, health service research and codesign.
There are plans to further expand the team with recruitment currently underway for three additional researchers. 
Greg Pratt, who is also a CQUniversity alumnus, has personally facilitated over 80 community consultations, workshops, training sessions and yarning circles with health service providers and policy personnel, researchers, community, and academia.