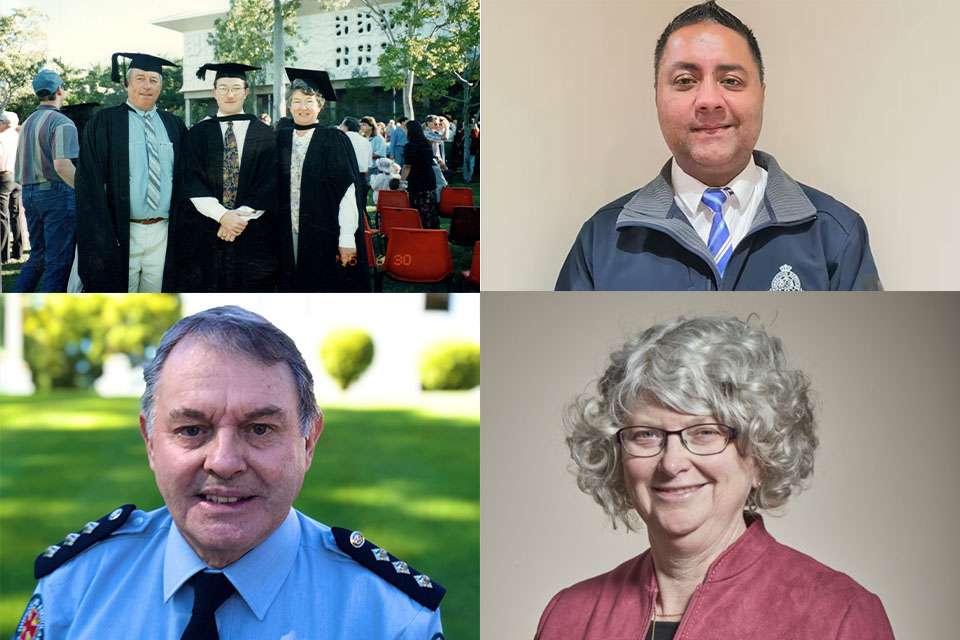 CQUniversity affiliates have been recognised at the first King's Birthday Honours for outstanding service or exceptional community engagement at the local, national or international level. 
The Governor-General announced the 2023 honours and awards for 1,191 individuals, including eight people with close connections to CQUniversity. 
CQUniversity Master of Education Studies (1995) graduate, Judith Bandidt was one individual who was recognised with a Medal of the Order of Australia (OAM) for service to the community of Goomeri.
"I was humbled to receive an OAM as I am aware there are so many people who work for all kinds of communities and many fly under the radar," she said. 
"I find community work rewarding and fulfilling, whether that is as a volunteer or project leader."
The poet, author, publisher and former Goomeri State School teacher said she is driven by her passion to support rural and remote communities, particularly centred around expanding opportunities and using technology to lessen the isolation of distance.
"Born and bred in rural Queensland, I am still a country girl at heart, even though I now live in a semi-urban environment," Mrs Bandidt said. 
"For many years my husband and I ran a computer sales and service business supporting rural and remote school communities in western Queensland, Cape York and the Torres Strait from our property in Goomeri. This was in the late 1990s before it was 'cool' to run an online business. 
"I also worked as a policy officer for Community Tele-Services of Australia for several years, supporting rural and remote telecentres across Australia."
Mrs Bandidt said she credited CQU for giving her the start she needed to succeed in her career and subsequent community initiatives. 
"My CQU studies in education, focusing on computers in education, were very relevant to the work I was doing with the Queensland Department of Education as a technology advisory teacher, and later in our small business ventures. 
"I found the discipline and dedication required to complete tertiary degrees has stood me in good stead throughout my life in many ways."
An additional six alumni and a CQU supporter were recognised in the 2023 Honours List.
Mr John Ryan OAM
CQU Graduate Diploma of Management (1993), John Ryan received a Medal of the Order of Australia (OAM) for service to education as an administrator.
Ms Josephine Burkett OAM 
Diploma of Teaching (1980) and Bachelor of Education (1987) graduate Josephine Burkett has been heavily involved with community groups across the Gladstone Region. Her work was recognised with a Medal of the Order of Australia (OAM) for service to the communities of Boyne Island and Tannum Sands.
Mr Wayne Sachs OAM 
The Bachelor of Health Science (1990) graduate was recognised with a Medal of the Order of Australia (OAM) for his contributions to the local health and volunteer organisations and service to the community of the Gympie region.
Mr Bob McCosker OAM 
Gladstone resident, Bob McCosker received a Medal of the Order of Australia (OAM) for service to the community through a range of organisations. 
Bob McCosker has been a long-term supporter of CQUniversity. 
Ms Kris Peach AM 
As a CQU Bachelor of Business (1987) graduate, Kris Peach has extensive experience in accounting standard setting, earning her a Member of the Order of Australia (AM) for significant service to the accountancy profession, and the community.
She has previously served on the Australian Accounting Standards Board (AASB) as both a member and as the Deputy Chair, and as a member of the Australian Urgent Issues Group.
Captain Lachlan Attard CSC 
Serving Australian Defence Force (ADF) member, Captain Lachlan Attard was recognised for outstanding achievement on the performance of duty as the Project Engineer and Site Lead for the Cook and Tiroas Barracks infrastructure project in Vanuatu from August 2021 to May 2022.
The Bachelor of Engineering (2012) graduate received a Conspicuous Service Cross (CSC).
Mr Preetpal Singh ACM 
The Graduate Diploma of Information Systems (2003) alumnus has spent the past 11 years in a hands-on IT role that directly supports inmates. He was awarded an Australian Corrections Medal (ACM).
The complete King's Birthday 2023 Honours List is available on the Governor-General's website.