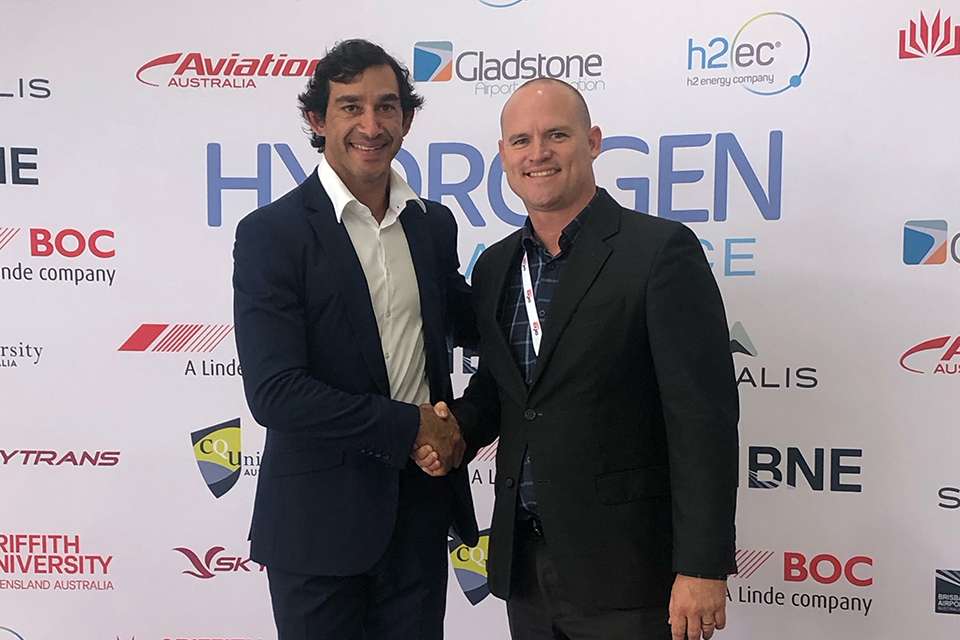 CQUniversity, along with other key players in the Australian aviation and green hydrogen industries officially launched the Hydrogen Flight Alliance (HFA) today at the Brisbane Airport.
The aim of the alliance is to ensure Australia plays a leading role in the aviation industry's transition towards net-zero by 2050.
The initial focus will be on enabling Australia's first commercial emission-free hydrogen powered flight between Brisbane Airport and Gladstone Airport in 2026.
The route will be operated by Skytrans Airlines using a 15 seat Stralis B1900D-HE aircraft, designed and built in Brisbane.
The only emissions from the tailpipe of the aircraft will be water vapour.
Both cities already have significant green hydrogen developments underway, making them ideal locations to launch the first hydrogen electric aircraft routes in Australia.
The newly-formed alliance brings together leading Australian organisations to develop the hydrogen flight ecosystem required to enable operation of new Australian made emission free aircraft. HFA members include:
CQUniversity 
Stralis Aircraft
Skytrans Airlines
Brisbane Airport
Gladstone Airport
Aviation Australia
BOC
H2 Energy Company (h2ec)
Griffith University
Stralis Aircraft will begin flight testing their hydrogen electric powered six-seat Beechcraft Bonanza demonstrator aircraft in early 2024.
The flights will occur in South East Queensland, allowing the alliance to gain real world experience operating and refuelling hydrogen aircraft.
Brisbane is planning for the 2032 Olympic and Paralympic Games to be a climate positive event.
The HFA is working to enable the vision of athletes being flown around Queensland during the games on locally built emission-free aircraft.
Green hydrogen has the potential to contribute significantly to the decarbonisation of air travel. However, challenges around the fuel's availability at scale, future cost and airport supply infrastructure need to be solved. Consortiums like the HFA bring together the diverse mix of expertise required to make progress in these areas.
Formation of this Alliance will establish a clean technology innovation hub in Queensland, generating world-class jobs, training programs and emission-free aircraft manufacturing.
Australia is an ideal location to trial hydrogen flight, due to its abundance of renewable energy and developing green hydrogen industry.
Commercial hydrogen electric aircraft will be designed, tested and certified with the Civil Aviation Safety Authority (CASA) to the same level of safety as conventional aircraft.
Strong government incentives around the globe, such as the Inflation Reduction Act in the USA, are helping countries build strong emission reduction technology industries. Similar incentives are needed for Australia to remain competitive in the race to decarbonise.
Hydrogen Flight Alliance Co-founder and CEO of Stralis Aircraft Bob Criner said the HFA allowed the group to answer the most common question they hear from airline customers, which is "how will they access affordable green hydrogen at airports in future"?
"This is not a problem we can solve on our own, it requires industry collaboration," Mr Criner said.
Skytrans – which is part-owned by former North Queensland Cowboys star Johnathan Thurston, said they were proud to be part of an Australian collaboration pioneering hydrogen propulsion technology for commercial aircraft.
"We are proud to be leading the nation in developing its hydrogen industry and we want to play a leading role in showing that this technology can work in aviation," Chief Executive Officer Alan Milne said.
Raechel Paris, Executive General Manager, Governance and Sustainability at Brisbane Airport Corporation said the Airport supported the ambition of the Hydrogen Flight Alliance (HFA) to decarbonise aviation with innovative technologies like hydrogen electric flight.
"With Queensland home to the largest number of regional flights in Australia, Brisbane is the perfect testing ground for zero emissions aircraft," Ms Paris said.
CEO of Gladstone Airport Corporation Mark Cachia, agreed. 
"Another great milestone in aviation with the first emission-free electric aircraft, operating between Brisbane and Gladstone, by Skytrans.
"Gladstone is destined to become the world's leading hydrogen hub, so what better place to fly to."
Dean of CQUniversity's School of Engineering and Technology, Professor Steve Hall said he was thrilled to have CQU be a part of the Alliance.
"It's great to be part of the team, showing this to our maintenance engineers, pilots and aviation industry managers of the future."
Business Development Manager for Clean Hydrogen at BOC, Chris Dolman said as they transition to a greener economy, hydrogen was set to play an increasingly important role.
"It is an ideal way to store energy generated from renewable and primary sources. And when generated from regenerative sources, it creates a zero-emissions energy cycle," he said.
CEO of h2ec Aaron Smith said H2 Energy Company was very excited to be playing a key role in the advancement of hydrogen electric flight technology in Australia, as the aviation industry faces a projected increase in carbon emissions.
"Renewable green hydrogen supplied from our strategically located production facilities, in combination with hydrogen aviation technologies, has the potential to reduce emissions from aircraft by 100 per cent."
Associate Executive Director of The Climate Ready Initiative at Griffith University, Dr Emma Whittlesea said Griffith University, through its multidisciplinary Climate Ready Initiative, Griffith Aviation, and Centre for Applied Energy Economics and Policy Research, would bring teaching, research and policy capability and expertise to the alliance.
"(We) are particularly interested in progressing the action learning and applied research opportunity in collaboration with project partners and other stakeholders," Dr Whittlesea said.