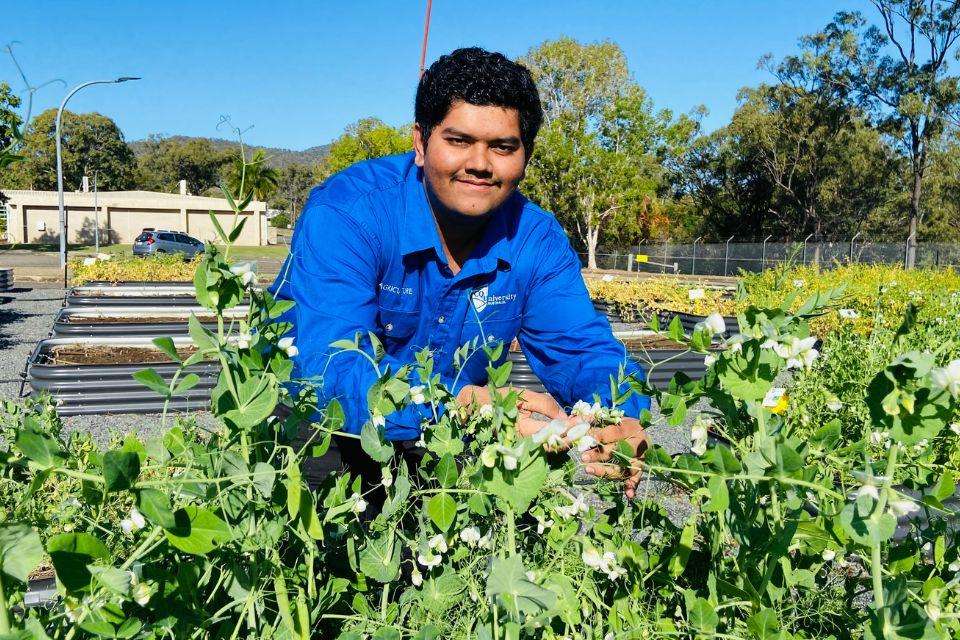 First-year Agriculture student Ageetesh Lal found unexpected fascination when he tackled research into cowpeas (black-eyed peas) as feedstock – and his passion for discovery put him in the spotlight. 
The Rockhampton student, who moved from Fiji to begin his studies with CQUniversity this year, was recently named Best in Session at the 2023 Online Conference for Undergraduate Research in Australasia (OCURA2023). 
Hosted by CQUniversity's Motivation of Health Behaviours (MoHB) Lab from 30 August – 1 September, the conference was in its third year and featured 30 budding scholars from a diverse range of disciplines. 
Ageetesh said he'd been attracted to OCURA for the chance to hear other undergraduate research, and "inspiring" new approaches to tackling global issues.  
"As feedstock prices are increasing due to the impacts of climate change and global problems, I researched how urea supplementation would benefit cowpeas in their biomass growth, and with their height, for faster feed production for livestock breeders," he explained.
Although he'd grown up in urban areas, Ageetesh said he was attracted to CQU's Bachelor of Agriculture as a way to tackle and improve global food security. 
"My most captivating finding was the significant enhancement in the height of cowpeas due to urea supplementation," he said. 
"Then a more intriguing revelation came from the control cowpea plant, which showed even greater growth than those with urea supplementation, which was unanticipated but fascinating!"
OCURA2023 Director and CQU PhD student Felix Parker said student presentations "provided an exciting glimpse into the impressive research being undertaken by our up-and-coming generation of scientists". 
"OCURA provides an excellent opportunity for students to engage, build confidence in their abilities and cultivate a culture of academic growth, nurturing the development of our future researchers," he said.
"High-calibre presentations aside, what sets this conference apart is the warm and collaborative spirit that the OCURA team bring to the fore each year."
OCURA was founded in 2020 by CQU PhD candidate and researcher Kristie-Lee Alfrey, and she joined the 2023 organising team alongside OCURA Academic Mentor Associate Professor Amanda Rebar, PhD candidate Kim Waters, and Bachelor of Psychological Science student Rebecca Williams. 
CQU student and recent graduate participants included Susan Hextell (Obsessive-compulsive symptoms in a vulnerable population), Rochelle Sophocleous (An intervention for shift worker sleep), Nehal Singh (Eating and physical activity behaviours in shift workers), Imea Thomas (Sleep apps in the real world), Kate Graham (Positive psychology and wellbeing effects on student retention) and Megan Shannon (Phosphorus in lemongrass waste as nutrient source for ruminants).  
Nikki Thampy (Barriers and facilitators for mental health service engagement for regional Indian Australians) earned the People's Choice RHD Proposal and Andre Crozier (Human attachment and empathy towards pets) took out Best in Session Poster Presentation. 
Ageetesh thanked the organisers and CQU for the opportunity and said he hoped to continue research to promote better food production. 
"The presentation I had with the other judges and audience turned out to be a remarkable experience, and the enthusiasm and inquiries about my research truly energised the experience," he said.
To explore study and research degrees with CQUniversity, visit cqu.edu.au/study.