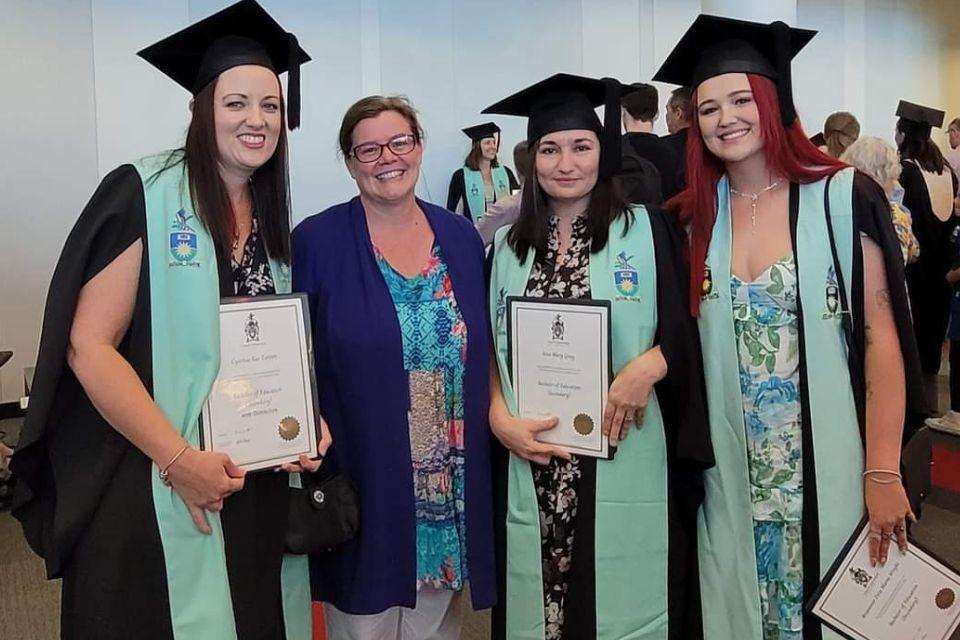 Hundreds of happy graduates have crossed stages at three big Graduation events across the past week, with events celebrating determination, passion and social impact. 
The series kicked off for Western Australian graduates on Tuesday 22 August, at the Perth Convention and Exhibition Centre, with graduates from across CQUniversity's eight schools. 
Guest speaker Professor John C Wood inspired the gathering, as the Oxford and University of Western Australia graduate shared his experience leading education, and co-founding the not-for-profit Centre for Stories that uses storytelling to promote a more inclusive society.
And inspiring stories continued to be a theme of the Graduation events. 
Delivering the Perth graduate response, Bachelor of Aviation graduate Stewart Hollands shared his long journey from his plane journey at 18, and long journey to becoming a pilot through his CQU studies, despite dropping out of high school. 
Mr Hollands reflected on the huge achievement of the diverse group, reminding graduates that, "Each of us has overcome our unique challenges to succeed… the tears of joy and sometimes sorrow, the late nights and early morning, the resilience and determination we have shared, has all been worth it."
On Friday 25 August, Brisbane Convention and Exhibition Centre hosted the Queensland event, where Kerry Reid-Searl was named Emeritus Professor for her decades of world-leading Nursing education at CQUniversity and across the sector. 
Prof Reid-Searl said she was truly humbled to deliver the guest address, for a university that had delivered her countless opportunities, from her first undergraduate studies. 
"Studying by distance, I didn't think I'd ever make it to university, and I remember when I received a HD for an assignment, I actually rang the university to make sure that was right!" she laughed.
She challenged the graduates to be a "C-Q-U graduate" – C for continue on your life-long journey of learning, Q for qualities, and understanding personal qualities beyond just titles or success, and U for understanding, and delving into different viewpoints and listening with empathy.  
Then at Sydney Graduation on Wednesday 30 August, at the Sydney International Convention Centre, 2023 Alumnus of the Year for Early Career Achievement Clarissa Sempel shared her journey into the legal profession.
The young solicitor and Bachelor of Laws alumnus said any success or achievement "all starts with education".
Originally from Campbelltown in Sydney's west, and now working as a solicitor with Our Lawyers in the New South Wales Southern Highlands, Ms Sempel said she achieved success through a focus on helping people, despite growing up in housing commission, and being the bread-winner for her brothers and sisters.  
CQUniversity's Chancellor Graeme Innes AM presented testamurs to graduates across the three ceremonies, and shared his encouragement for their futures. 
"To all those that will graduate today, please remember the motto of CQUniversity, 'doctrina perpetua' – forever learning," he said.
"Today isn't the end of your learning, but a major milestone along the way.
"I hope the experiences and learning from this study journey can be utilised to make a change in your communities, and empower others, and become an advocate for those who are disempowered, and an advocate for yourself."