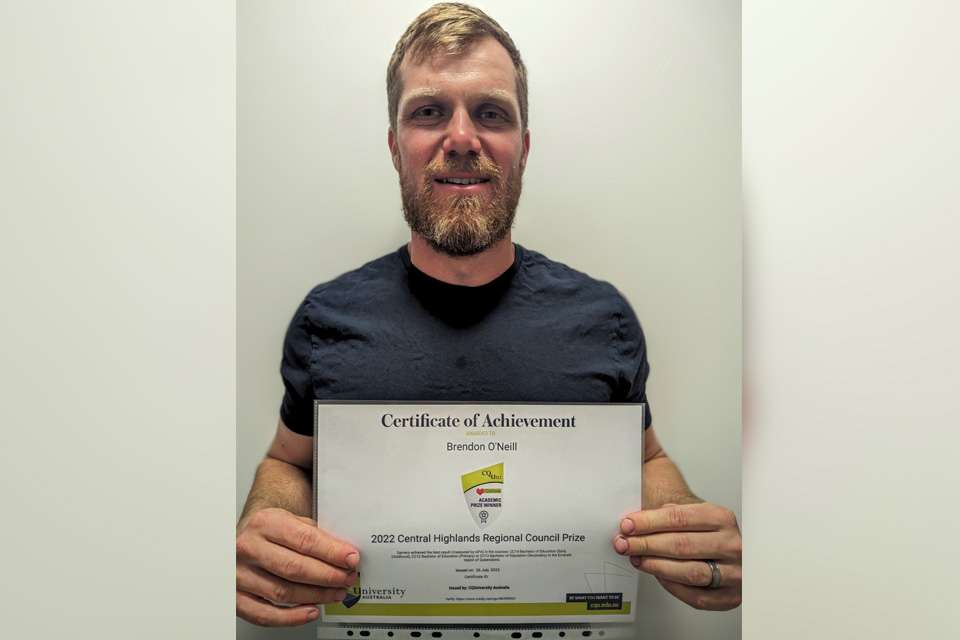 A desire to be a positive role model for young people has prompted a career change from police officer to teacher for Emerald's Brendon O'Neill.
The CQUniversity Bachelor of Education (Secondary) student was recently recognised for his academic achievements, receiving the Central Highlands Regional Council Prize. The CHRC Prize is awarded to the Emerald region Bachelor of Education (Early Childhood, Primary or Secondary) student who has received the best results.
"I really loved my own time at school, when I was boarding at St Brendan's College, Yeppoon," Mr O'Neill said.
"I suppose my own positive experience as a student attracts me to the profession.
"After I left school in 2005, I joined the Queensland Police Service, where I spent 13 years working mostly general duties.
"During that time, I had a lot of contact with juveniles who were making bad decisions or were growing up in tough situations.
"I see teaching as a chance to have contact with these kinds of young people on a regular basis and hopefully, be a positive role model for them."
Mr O'Neill, who specialises in maths and health and physical education, completed placement with Marist College, Emerald last year.
"I enjoyed the daily routine – your day is scheduled for you," he said.
"I enjoyed the challenge of trying to teach a class – I definitely have a lot to learn."
Mr O'Neill said he was "pleasantly surprised" when he learned he had won the CHRC Prize.
"At this stage, it's just about trying to juggle study with full-time work and family life," he said.
"It's always a good feeling to get a pat on the back and recognised for your hard work. Thank you to Central Highlands Regional Council for their generosity in sponsoring the award."
CQUniversity Associate Vice President Rockhampton and Central Highlands Regions Kim Harrington congratulated Brendon on his award.
"He has shown great commitment to his studies and has consistently received excellent marks," she said.
"His efforts are to be commended.
"A career change is not always an easy decision to make, but Brendon has the makings of a dedicated teacher who will be a wonderful role model for his students."