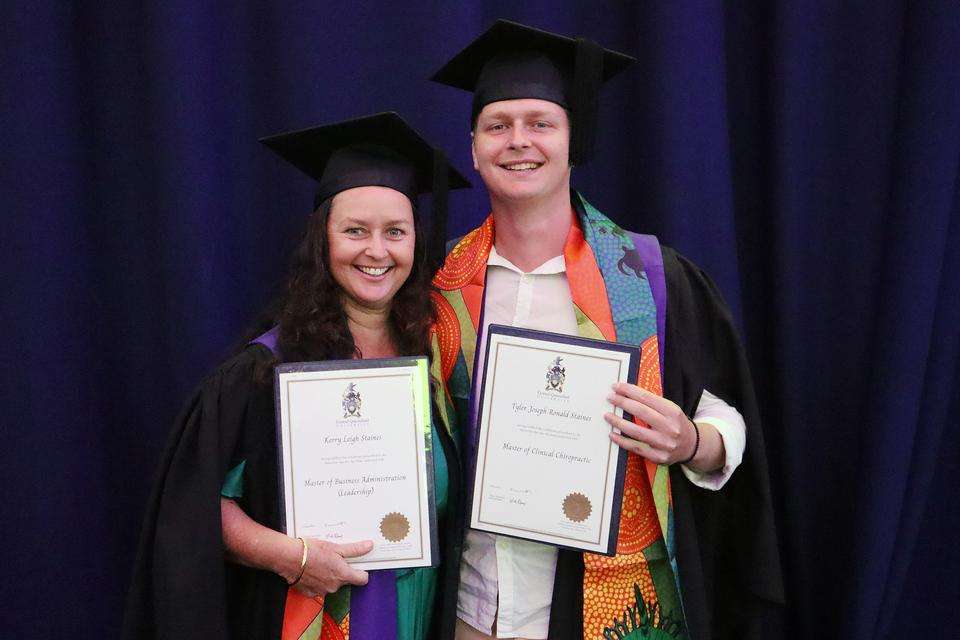 Trailblazing businesswoman and First Nations leader Kerry Staines donned her graduation gown in a celebration of her determination, education, and heritage at CQUniversity's Brisbane Graduation Ceremony today (Friday, 25 August). 
 As a descendant of the Mandandanji and Wakka Wakka Peoples she was proud to represent her culture by wearing a CQU Indigenous sash as she received her Master of Business (Leadership) testamur.
Ms Staines said completing her MBA (Leadership) will not only help bolster her career but her passion for Indigenous rights. 
"I chose to study an MBAL for a few reasons. The structure of the course, coupled with my current role as a CEO requires strong leadership and gives me the ability to expand my knowledge beyond my usual scope of practice.
"Completing this qualification gives me the assurance that I have well-rounded knowledge, and the capability to research the unknown with confidence," she said. 
"This is becoming a baseline qualification for anyone wanting to hold a leadership or executive role, which will ultimately open more doors for my career.
"Highlights of the course were the breadth of some topics and opening myself to learn newways of thinking."
Returning to study as a mature-aged student, Ms Staines said CQU's flexible online options and seamless articulation pathway helped her balance her studies alongside her busy career. 
"I started by committing to the Graduate Certificate in Business Administration (Leadership) to see how I managed before progressing to the Graduate Diploma in Business Administration (Leadership). The units I completed provided me with credits towards my masters degree. 
"It was actually an advantage that I was able to apply the knowledge in a real-time working environment and this helped to concrete my learning," she explained. 
"I became more confident as time progressed and the online community was very supportive."
Ms Staines acknowledged the strong guidance from her fellow peers and CQU staff in helping her succeed, highlighting the encouragement of her former colleague, and now Deputy Dean of the School of Nursing and Midwifery, Dr Teresa Schmidt.
"Completing further study was always something I felt I needed to do but kept putting it off. I felt it was too daunting," she admitted. 
"Teresa had just enrolled in the Graduate Certificate and explained how the course was structured online with exams and assessments in my time, with the only restriction, to complete within a five-year time frame.
"I was fortunate to have had Teressa with me in the beginning, the initial subjects were terrifying, and I felt completely out of my depth.
"But once that was completed, I felt I could tackle the next section, then Grad Dip, then once that part was finished, I knew that I could finish."
While the graduation ceremony was a significant milestone for Ms Staines, the event also proved to be a memorable family affair as the dedicated mother celebrated alongside her son Tyler Staines who also graduated from CQUniversity with a Dr of Chiropractic.
"It is a once-in-a-lifetime experience to share this day with him," Ms Staines said. 
"Sometimes it was a challenge to keep plugging away to complete the next task. This often meant I needed to give up valuable family time in the short term for the long-term gain.
"While we studied very different subjects, it helped to talk about the pressures of university study and were able to champion each other along the way. 
"We were able to discuss the pressure of assessments and the online platform."
As they both embark on the new chapters of their careers, Ms Staines said she will continue to be an advocate for tertiary education and encourage other First Nations people to consider university study.  
"The key is to just get started!
"Then you can just focus on your studies bit by bit. It is important to form a strong cheer squad around you," she said.
"I plan on taking a break from study at this point but would consider completing a PhD at CQUniversity in the future."