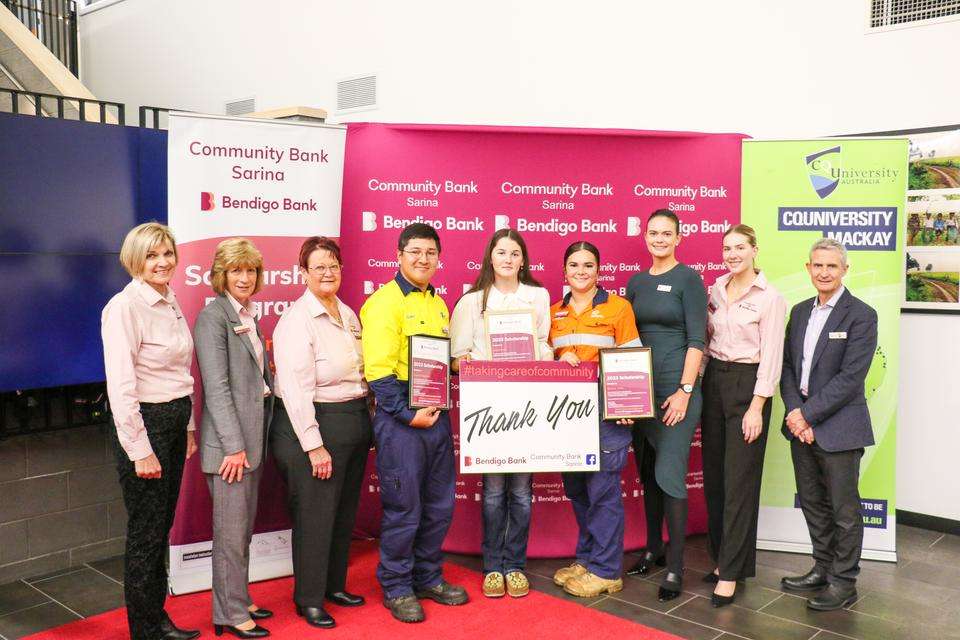 Community Bank Sarina Bendigo Bank has awarded three CQUniversity students with scholarships in a presentation at the Ooralea campus.
As part of the Bank's Community Engagement Program, the scholarships offer students financial support and encouragement to take up a vocation and keep studying and working locally.
Scholarships are offered annually and students in their first year at CQUniversity can apply for a Vocational and Educational Training (VET) Apprenticeship scholarship or a Higher Education scholarship.
The total value of the CQUniversity scholarships awarded in 2023 was $14,000.
Community Bank Sarina Board Chair Karen May said these students shone with their enthusiasm about their studies and staying close to home to achieve their career aspirations.
"We know that students who study and get their trade qualifications and degrees in the region are more likely to stay and work here," she said.
"Scholarships aren't just about financial assistance, they're about helping these students navigate opportunities that arise and connecting them with business and industry, potentially creating future leaders in our community."
Recipient of a Higher Education scholarship Chloe Paul said it was a huge honour to receive a scholarship to complete her Bachelor of Agriculture.
"I've chosen a Bachelor of Agriculture because of my passion for cattle genetics, and I aim to be well-known in the agriculture industry for my contributions to bovine reproduction," she said.
"It means a great deal to me to have the support from the area that I have grown up in and live in, and this scholarship will provide invaluable support while I complete my studies."
CQUniversity Associate Vice-President NQ Rob Brown said he was happy to see the long-term partnership between Community Bank Sarina and CQUniversity continue to provide young people with educational and networking opportunities.
"Scholarships provide encouragement for students by providing an investment in their future," he said.
"Since 2012 we have partnered with Community Bank Sarina, and they have continued to tailor their scholarships to keep pace with the business and industry needs in the region." 
VET (Apprenticeship) scholarship recipient Seumus Andrews, said he wasn't sure which path he would take after he completes his Cert III in Parks and Gardens at North Queensland Bulk Ports Corporation, but knows the scholarship will provide plenty of opportunities for growth.
"It was an incredible feeling to be selected for this scholarship and I would encourage other students to apply.
"A lot of people may think applying for a scholarship is beyond their abilities but there's no harm in giving it your best shot."
Brooke Vella is completing an Electrical Apprenticeship at Aurizon and plans to be an Electrical Engineer. She gratefully received a VET (Apprenticeship) Scholarship to help forge this career path.
"I wanted hands-on experience in the industry first and this apprenticeship has been a fantastic way to do so. I want to thank Community Bank Sarina for this opportunity, and I will make the most of it." 
Community Bank Sarina will open applications for their Sarina State High School scholarships in August, to find out more email executive@sarinacommunity.com.au.