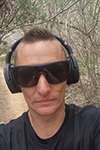 Darren began his studies with CQUniversity straight out of high school. After graduation, he worked in various positions for the Australian Federal Government. Working for the Australian Taxation Office and Services Australia allowed him to live and work in numerous locations across Queensland, including Brisbane, Rockhampton, Gladstone, Cannonvale, Cairns and Roma.
Darren found his Arts degree helpful when working in the Australian Social Services sector. His studies in welfare, communications and psychology provided him with skills to effectively communicate in written and verbal form and to understand and work closely with the most vulnerable groups in Australia.
Darren retired after 25 years in the Australian Public Service, and recently re-enrolled in study to fulfil a life-long dream of completing a law degree.