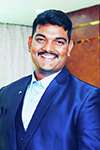 Charan had completed undergraduate studies in Commerce and Computer Science with an Accounting certification. He wanted to do post-graduate study overseas to progress his career, gain experience and improve his communication skills.
After graduation, Charan tried looking into job opportunities that would suit his skill set. After overcoming a few hurdles, he secured a position at CEVA Logistics as an operations administrator. His job involves operational duties in air freight management and other administrative responsibilities. Charan's goal is to progress into the operational/project manager role in the next five years.
Charan's studies with CQU helped him to step into the corporate world and provided him with an understanding of what's involved in the projects and tasks he now works with.