SIT30821 - Certificate III in Commercial Cookery
| | |
| --- | --- |
| Duration | There are multiple durations. Please refer to Course Structure below. |
| Location | Mackay City and Rockhampton City |
| Next intake | February, 2024 |
| Study mode | On Campus |
| Total units | 25 |
| CRICOS | 109768B |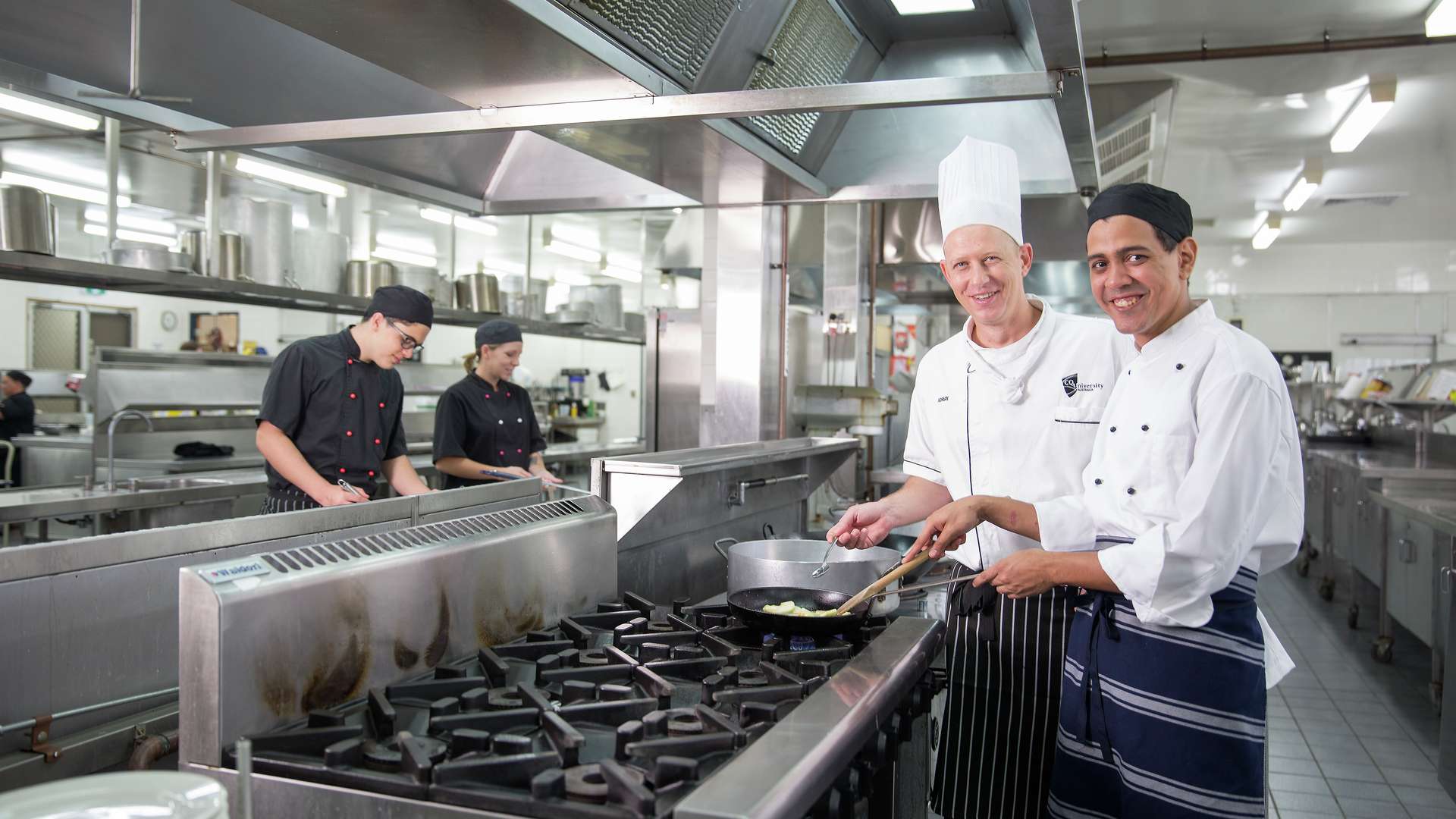 Overview
Start your culinary career with our Certificate III in Commercial Cookery. This qualification provides students with the skills and knowledge to explore the world of culinary arts within a dynamic commercial kitchen setting. Hone your culinary skills, embrace creativity, and prepare yourself for a culinary career.
This qualification reflects the role of cooks who use a wide range of well-developed cookery skills and sound knowledge of kitchen operations to prepare food and menu items. Using discretion and judgement, they work with some independence and under limited supervision using plans, policies and procedures to guide work activities.
Career Opportunities
Completion of this qualification contributes to recognition as a trade cook.
This qualification provides a pathway to work as a cook in organisations such as restaurants, hotels, clubs, pubs, cafes, and coffee shops.
Structure & Availability
International
Duration:
Stage 1
| Unit Code | Unit Name |
| --- | --- |
| SITHCCC031 | Prepare vegetarian and vegan dishes |
| SITHCCC023 | Use food preparation equipment |
| SITHCCC027 | Prepare dishes using basic methods of cookery |
| SITHCCC028 | Prepare appetisers and salads |
| SITHCCC029 | Prepare stocks, sauces and soups |
| SITHKOP009 | Clean kitchen premises and equipment |
| SITXFSA005 | Use hygienic practices for food safety |
| SITXINV006 | Receive, store and maintain stock |
| SITXWHS005 | Participate in safe work practices |
| SITHCCC025 | Prepare and present sandwiches |
Stage 2
| Unit Code | Unit Name |
| --- | --- |
| SITHCCC026 | Package prepared foodstuffs |
| SITHPAT016 | Produce desserts |
| SITHCCC037 | Prepare seafood dishes |
| SITHCCC036 | Prepare meat dishes |
| SITHCCC030 | Prepare vegetable, fruit, eggs and farinaceous dishes |
| SITHCCC035 | Prepare poultry dishes |
| SITHCCC040 | Prepare and serve cheese |
Stage 3
| Unit Code | Unit Name |
| --- | --- |
| SITXHRM007 | Coach others in job skills |
| HLTAID011 | Provide First Aid |
| SITHCCC041 | Produce cakes, pastries and breads |
| SITHCCC038 | Produce and serve food for buffets |
| SITHCCC042 | Prepare food to meet special dietary requirements |
| SITHCCC043 | Work effectively as a cook |
| SITHKOP010 | Plan and cost recipes |
| SITXFSA006 | Participate in safe food handling practices |
International
| Intake | Locations |
| --- | --- |
| July, 2023 | On-campus, Mackay City, Rockhampton City |
| August, 2023 | On-campus, Mackay City, Rockhampton City |
| September, 2023 | On-campus, Mackay City, Rockhampton City |
| October, 2023 | On-campus, Mackay City, Rockhampton City |
| November, 2023 | On-campus, Mackay City, Rockhampton City |
| February, 2024 | On-campus, Mackay City, Rockhampton City |
| March, 2024 | On-campus, Mackay City, Rockhampton City |
| July, 2024 | On-campus, Mackay City, Rockhampton City |
| August, 2024 | On-campus, Mackay City, Rockhampton City |
This course has no residential schools.
Where student is not employed, work within industry will need to be organised to meet the requirements of SITHCCC043 (48 services).
Requirements
English requirements: IELTS 5.5 (with no individual band score of less than 5.0), or equivalent.
Visit our Entry Requirements page for our full list of academic and English requirements.
Fees & Scholarships
2024 Indicative Fees
| Fee Type | Fees |
| --- | --- |
| Fee for service (International) | A$16,270 |
| RPL Fee for service per Unit | A$295 |
Please note the following important information:
Fees are in Australian dollars (A$).

Fees are indicative only and do not cover additional costs such as textbooks, accommodation, visa applications, OSHC, general living etc.

F

ees are based on a full-time study load and the final fee payable will be determined by your selection of units and if any credit was awarded for recognition of prior learning.
The University reserves the right to amend fees at any time during the course. Fees are reviewed yearly and may increase in the following year to enable CQUniversity to continue to provide quality services and facilities to students.
Courses are subject to change at the discretion of the University.
It is your responsibility to make yourself aware of the entry requirements and prerequisites of the courses you wish to undertake.

The typical annual fee shown provides an estimate of the tuition fees for the first year of the course in the same academic year. This estimate assumes a full-time study load of 4 units per term (based on two terms).

S

tudents not on an Australian student visa can only undertake courses online from an overseas location

.

C

ourses undertaken online may be studied on a full-time or part-time mode.
International students studying on-campus in Australia may take no more than 33 per cent of their entire course by online education, and this option cannot be taken in its entirety during a compulsory term (Term 1 and Term 2).
Please refer to our international course fees page.
We offer a range of scholarships to support international students and encourage you to apply for one that's right for you.
How to apply
Our easy to use online application system for international students will guide you through the process of applying for a course at CQUniversity Australia.