SIT30816 - Certificate III in Commercial Cookery
| | |
| --- | --- |
| Duration | There are multiple durations. Please refer to Course Structure below. |
| Location | |
| Study mode | On Campus, RPL/RCC/Credit |
| Total units | 25 |
| CRICOS | 094904D |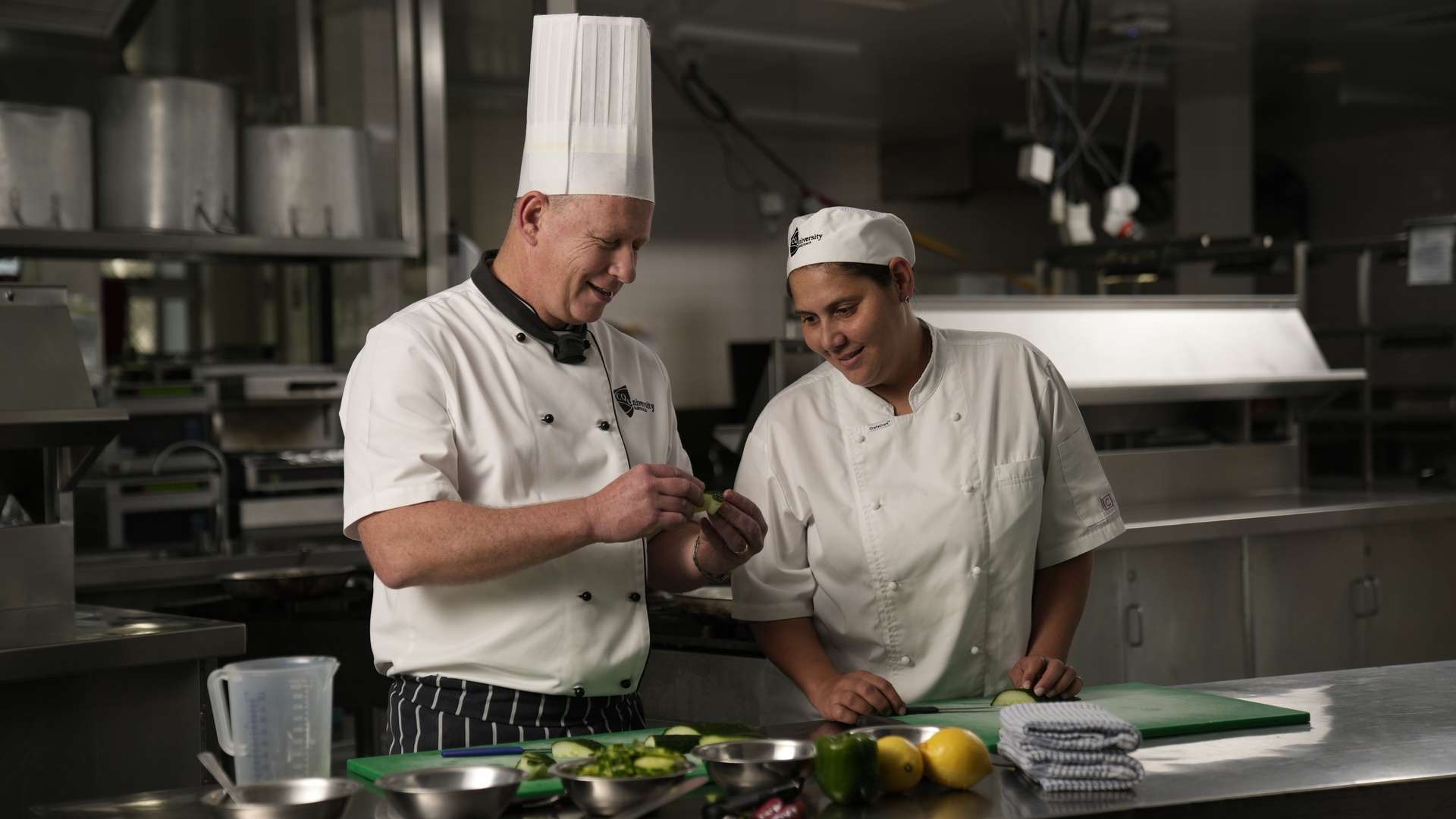 Overview
Do you have a creative flare in the kitchen and love to cook up a storm? If this sounds like you, apply for the Certificate III in Commercial Cookery course at CQUniversity.
This qualification reflects the role of commercial cooks who use a wide range of cookery skills. They use discretion and judgement and have a sound knowledge of kitchen operations. Students work with some independence and under limited supervision and may provide operational advice and support to team members. For those students undertaking the Certificate III in Commercial Cookery who also wish to qualify for the Trade Certification the process of qualifying with trade equivalence may take up to 3 years, however students who are employed throughout this time in the industry may be able to fast track.
This is a nationally recognised accredited course.
QUALITY EDUCATION, WHEREVER YOU ARE
Between our reputation for learning, teaching and research, our renowned online education offering, and our status as Australia's largest regional university, rest assured you will get a world-class education when you choose CQUniversity.
A UNI THAT KNOWS CREDIBILITY IS KEY
In just 25 years, CQUniversity has achieved some amazing feats and emerged as one of Australia's truly great universities. We have been ranked among the best in the world for our teaching and learning, and are internationally recognised for our focus on Social Innovation. Our graduates are some of the most sought-after in Australia, due to our reputation for work integrated learning and industry-aligned courses, and experience some of the nation's best graduate outcomes in terms of full-time employment and starting salary. CQUni is also regarded as the nation's most inclusive and engaged university, with our award-winning academic and research staff making a real impact on the communities and industries we serve.
A UNI THAT LEADS IN ONLINE EDUCATION
A pioneer in online study, CQUniversity has more than two decades of experience providing high quality online learning experiences across the country and even internationally. We work hard to deliver the latest techniques in online study, and have even planned our physical sites to provide more services to our widespread online study cohort.
A UNI THAT KNOWS CONVENIENCE COUNTS
CQUniversity is truly focused on our students' needs, and that means responding to what, how and where they want to study. It is why we are now Australia's largest regional university, with more than 20 metropolitan and regional locations across five states, delivering TAFE and university qualifications in on-campus, online and supported online modes to more than 30 000 students.
A UNI THAT KNOWS YOUR EXPERIENCE MATTERS
CQUniversity's strong focus on student experience ensures that you are prepared and supported on your student journey. Support services include on-campus or online orientation to assist your transition into university life, course and career advice, financial support options, study support, ongoing assistance through the Student Mentor program, counselling services, support for students with disability or medical conditions, Indigenous student support and more.
Career Opportunities
Upon completion of the program this Commercial Cookery qualification provides you with employment and career opportunities to work as a commercial cook in organisations such as restaurants, hotels, clubs, pubs, cafes, cafeterias event catering organisations, airlines, hospitals, student accommodation areas, industry cafeterias and corporate organisations.
Structure & Availability
International
Duration:
Module 1 - Hygiene and Safe Food Handling Practices
| Unit Code | Unit Name |
| --- | --- |
| SITXFSA002 | Participate in safe food handling practices |
| SITXFSA001 | Use hygienic practices for food safety |
Module 2 - Work Safely in the Kitchen
| Unit Code | Unit Name |
| --- | --- |
| SITXWHS001 | Participate in safe work practices |
| SITHKOP001 | Clean kitchen premises and equipment |
Module 3 - Work Effectively and use Cookery Skills Effectively
| Unit Code | Unit Name |
| --- | --- |
| BSBWOR203 | Work effectively with others |
Module 4 - Use Equipment to Prepare and Cook Food
| Unit Code | Unit Name |
| --- | --- |
| SITHCCC001 | Use food preparation equipment |
| SITHCCC005 | Prepare dishes using basic methods of cookery |
| SITHCCC007 | Prepare stocks, sauces and soups |
Module 5 - Participate and Maintain the Quality of Perishable Food and Practice Sustainability
| Unit Code | Unit Name |
| --- | --- |
| SITXINV002 | Maintain the quality of perishable items |
| BSBSUS201 | Participate in Environmentally Sustainable Work Practices |
Module 6 - Prepare and Present Appetisers, Salads and Sandwiches
| Unit Code | Unit Name |
| --- | --- |
| SITHCCC003 | Prepare and present sandwiches |
| SITHCCC006 | Prepare appetisers and salads |
Module 7 - Prepare and Present Fruit, Vegetable, Pasta Dishes and Cheese
| Unit Code | Unit Name |
| --- | --- |
| SITHCCC017 | Handle and serve cheese |
| SITHCCC008 | Prepare vegetable, fruit, eggs and farinaceous dishes |
Module 8 - Prepare and Present Poultry, Seafood and Meat Dishes
| Unit Code | Unit Name |
| --- | --- |
| SITHCCC012 | Prepare poultry dishes |
| SITHCCC014 | Prepare meat dishes |
| SITHCCC013 | Prepare Seafood Dishes |
Module 9 - Package Prepared Foodstuffs
| Unit Code | Unit Name |
| --- | --- |
| SITHPAT006 | Produce desserts |
| SITHCCC004 | Package prepared foodstuffs |
Module 10 - Coaching and Developing Skills as a Cook
| Unit Code | Unit Name |
| --- | --- |
| SITXHRM001 | Coach others in job skills |
| SITHCCC020 | Work effectively as a cook |
Module 11 - Produce Cakes, Pastries and Breads
| Unit Code | Unit Name |
| --- | --- |
| SITHCCC019 | Produce cakes, pastries and breads |
Module 12 - Menu Planning and Costing
| Unit Code | Unit Name |
| --- | --- |
| SITHKOP002 | Plan and cost basic menus |
Module 13 - Dietary and Specialised Food Items
| Unit Code | Unit Name |
| --- | --- |
| SITHCCC018 | Prepare food to meet special dietary requirements |
Module 14 - First Aid
| Unit Code | Unit Name |
| --- | --- |
| HLTAID011 | Provide First Aid |
International
| Intake | Locations |
| --- | --- |
| February, 2023 | Mackay City, On-campus, Rockhampton City |
| July, 2023 | Mackay City, On-campus, Rockhampton City |
This course has no residential schools.
Where student is not employed, vocational placement will need to be organised to meet the requirements of SITHCCC002 Work effectively as a cook.
Requirements
English Language Requirements

If you are not a citizen of Canada, New Zealand, United Kingdom, Ireland, South Africa or United States of America, you are required to meet the English Language Proficiency requirements set by the University. 

You can meet the University's English Language proficiency requirements by one of the following: 

• An International English Language Testing System (IELTS Academic) – Overall band score of at least 5.5 overall with a minimum 5.0 in each subset; or 

• Test of English as a Foreign Language (TOEFL internet based) – Overall score of 65 with no score less than 15; or 

• Pearson Test of English Academic (PTE Academic) – Overall score of 46 with no sub-score less than 46; 

• Successful completion of a secondary level qualification (Year 11 or 12, or equivalent) completed within Australia, Canada, New Zealand, United Kingdom, South Africa, Ireland or the United States of America within the last 2 years. 

Academic Entry Requirements 

Requirements to enter for each course level are as per the following. 

Certificates II and III: Successful completion of Australian Year 10, or equivalent. 

Certificate IV: Successful completion of Australian Year 11, or equivalent. 

VET Diplomas: Successful completion of Australian Year 12 (or equivalent), 

OR 

Successful completion of Australian Certificate IV, or equivalent.

For more information on entry requirements visit our Entry Requirements page.

Completion of the bksb (Basic Key Skills Builder) online literacy and numeracy assessment prior to enrolment, unless the student has completed an equal or higher level course.
There are no other entry requirements for this course.
Fees & Scholarships
2023 Indicative Fees
| Fee Type | Fees |
| --- | --- |
| Fee for service (International) | A$16,270 |
Please note the following important information:
Fees are in Australian dollars (A$).

Fees are indicative only and do not cover additional costs such as textbooks, accommodation, visa applications, OSHC, general living etc.

F

ees are based on a full-time study load and the final fee payable will be determined by your selection of units and if any credit was awarded for recognition of prior learning.
The University reserves the right to amend fees at any time during the course. Fees are reviewed yearly and may increase in the following year to enable CQUniversity to continue to provide quality services and facilities to students.
Courses are subject to change at the discretion of the University.
It is your responsibility to make yourself aware of the entry requirements and prerequisites of the courses you wish to undertake.

The typical annual fee shown provides an estimate of the tuition fees for the first year of the course in the same academic year. This estimate assumes a full-time study load of 4 units per term (based on two terms).

S

tudents not on an Australian student visa can only undertake courses online from an overseas location

.

C

ourses undertaken online may be studied on a full-time or part-time mode.
International students studying on-campus in Australia may take no more than 33 per cent of their entire course by online education, and this option cannot be taken in its entirety during a compulsory term (Term 1 and Term 2).
Please refer to our international course fees page.
We offer a range of scholarships to support international students and encourage you to apply for one that's right for you.
How to apply
You can apply to study this course by clicking the Apply Now button. Our easy-to-use online application system for international students will guide you through the process of applying for a course at CQUniversity Australia.
Should you require any assistance, email the International enquiries team at int-enquiries@cqu.edu.au.