Bachelor of Hospitality Management
| | |
| --- | --- |
| Duration | 2 years full-time, 4 years part-time |
| Location | |
| Next start term | Term 1, 2024 |
| Study mode | On Campus, Online |
| Course code | CB69 |
| CRICOS | 075042C |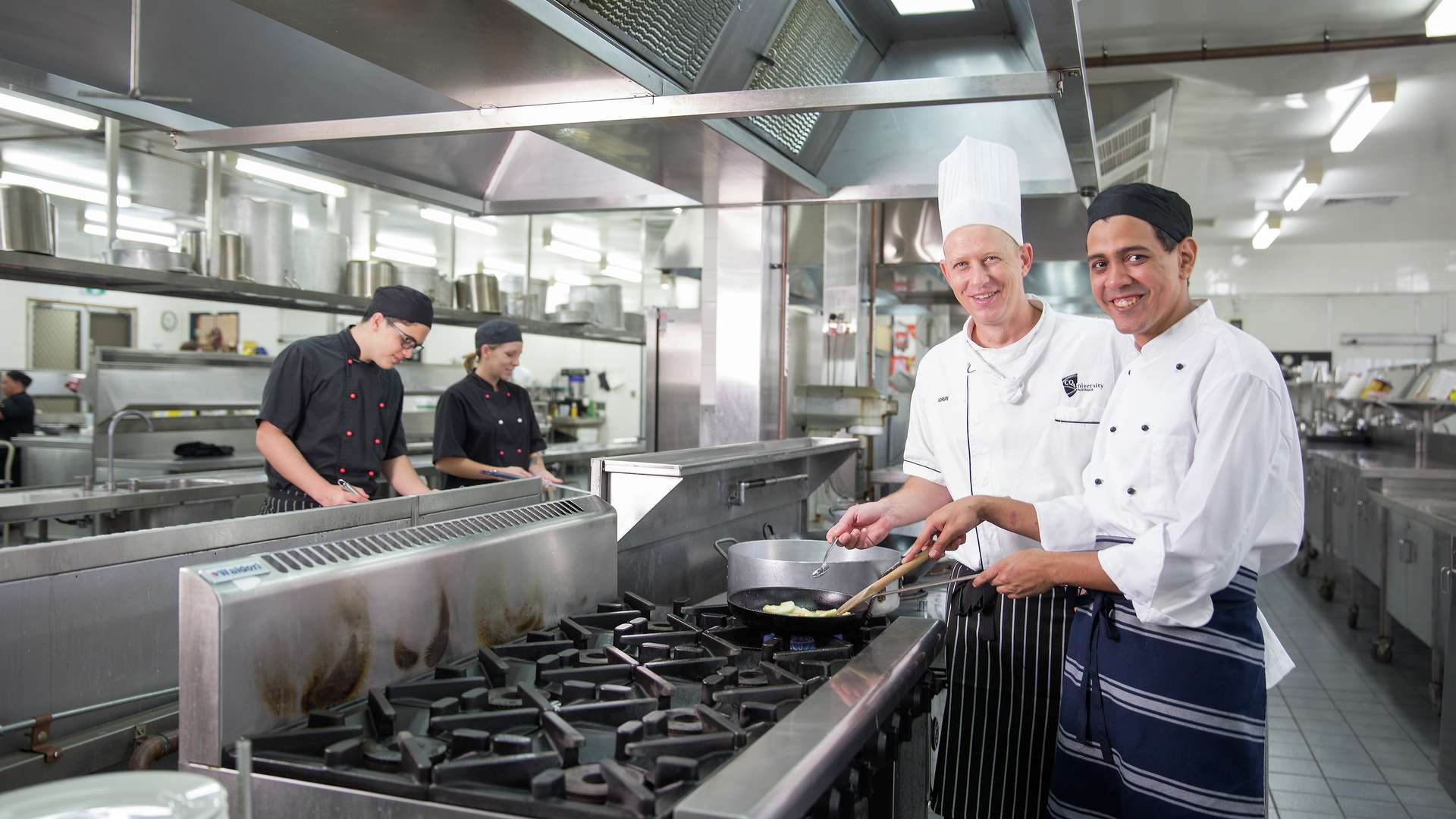 Overview
The Bachelor of Hospitality Management offers you a unique learning journey that will provide you with foundation business knowledge as well as the opportunity to choose from elective areas of study. The eight industry relevant electives strengthen the relevance of your study to the world of hospitality work. The course provides you with knowledge and skills to work effectively in the hospitality and tourism industry.  The Bachelor of Hospitality Management is designed for students who have completed an Advanced Diploma or a Diploma from a recognised institution. The course provides you with a direct pathway based on prior completion of a vocational or higher education qualification in hospitality management. The vocational pathway provides you with a strong foundation to complete the course in one and a half or two years depending on your entry pathway.
Transcript
The best thing about studying my course is seeing people happy after helping them or serving them food. When the customer comes with an inquiry and you help them out, the smile they have after you help them, it makes my day in a way, so it makes me happy.
My name is Murangi Wavhudi Tshisikule. I chose to study the Diploma of Hospitality Management because before this I did culinary arts. 
I got a bit of kitchen experience and when I was doing that, they told me to go to the front and just waiter for a day. And I actually loved it. 
So, I was like, oh, after this I can actually study hospitality management so I can get knowledge of both the kitchen and the front.
They always have people ready to help. Not just your lecturers, but if you randomly talk to someone at CQU, you get help and they're always friendly. That's the one thing I like the most.
So, at TAFE they have a restaurant, Wilby's training. We get to do practicals on coffee, mocktails, cocktails, smoothies, shakes... That's the best part about doing practicals. You get to make beautiful drinks, you decorate them and then when we have open days at the restaurant, when customers are there, serving them the drinks is just amazing. When they try it and they're like, 'oh wow, this is so good.' You just, you're happy about it. It just makes you feel so good.
I feel like I will be ready when I graduate because besides just doing the practicals, we operate like it's a restaurant, you're serving customers. You need to be professional, how the industry works so they sort of prepare you to be industry-ready when you graduate, which is a good thing.
After graduating my plan is to move to Brisbane and study a Bachelor in Hospitality Management. After studying that, I'm thinking of starting a small business, a BnB or something back at home or wherever that suits me.
I have accessed the 25% International Student Scholarship and it is helping a lot because it reduces the fees.  Now I get to use the money for accommodation and living expenses in Rockhampton.
I would say use all the services that you're offered. No issue is too small, no issues too big. Just apply and see. Everyone is always willing to help you.
Study experience
Authentic Learning Experiences
"

I feel like I will be ready when I graduate because besides just doing the practicals, when the restaurant is open, we operate like it's a restaurant, you're serving customers. You need to be professional. They prepare you to be industry ready when you graduate.
Career Opportunities
Completing the Bachelor of Hospitality Management opens the door to an exciting career in the hospitality industry. Typical roles may include:
beverage manager
catering manager
event manager
hotel manager
public relations manager
sales manager
tourism manager.
Structure & Availability
COURSE STRUCTURE
Whether you enter this course with a diploma or an advanced diploma you are required to complete nine core units. If you hold a completed diploma, you are required to complete three additional core units in marketing communications, marketing of service products, and marketing research analytics and you will also complete four electives from a select list. If you enter this course via the advanced diploma pathway, in addition to the nine core units, you will select three electives from a list of units.
UNIT INFORMATION
For information on the units, you could study as part of this course, visit the Handbook and select the "Course Structure" tab.
CREDIT TRANSFER INFORMATION
If you have already completed a study relevant to the course you have enrolled in, you may be eligible for credit transfer.
On-Campus Availability
| Intake | Locations |
| --- | --- |
| Term 1, 2024 | Brisbane, Melbourne |
| Term 2, 2024 | Brisbane, Melbourne |
Online Availability
| Intake | Locations |
| --- | --- |
| Term 1, 2024 | Available Online |
| Term 2, 2024 | Available Online |
Majors and minors are not applicable to this course.
Professional Practice and Experience - BUSN13004
The undertaking of a business internship is an option in this unit. It will take the form of an industry placement. Work experience in industry directed by the provider, within the secured place of employment. 12 weeks @ 20 hours (maximum) = 240 hours total
Requirements
Recommended study
A recommended study schedule for this course can be obtained from your Student Advisor (Courses and Careers) by contacting http://www.cqu.edu.au/programadvisor
Students may determine their own schedule based upon credit transfers and personal study requirements. It is important to note that full-time students usually enrol in 4 units per term and part-time students usually enrol in 2 units per term.
For Course Planners please refer to the following website http://www.cqu.edu.au/student-life/new-students/planners-and-profiles
Please note: students must check to see when and where a unit is offered before enrolling. See the unit availability in this handbook for details.
Pre-requisite: Students must have completed an Australian Qualifications Framework (AQF) or equivalent recognised Diploma or Advanced Diploma in Hospitality, Tourism or Hotel Management to gain entry into this course.
English Requirements:
If you were not born in Australia, Canada, New Zealand, United Kingdom, Ireland, South Africa or United States of America, you are required to meet the English Language Proficiency requirements set by the University.
Applicants are required to provide evidence of completion of:
a secondary qualification (Year 11 and 12, or equivalent), or
tertiary diploma level qualification, or
bachelor level qualification study for a period of at least 2 years fulltime with a minimum overall GPA 4.0
completed within Australia, Canada, New Zealand, United Kingdom, South Africa, Ireland, or United States of America, which will meet the English proficiency.
If you do not satisfy any of the above, you will need to undertake an English language proficiency test and achieve the following scores:
An International English Language Testing System (IELTS Academic) overall band score of at least 6.0 overall with a minimum 5.5 in each subset; or
Test of English as a Foreign Language (TOEFL) - Requires 550 or better overall and minimum TWE score of 4.5 (Paper Based Test), or 75 or better overall and no score less than 17 (Internet Based Test); or
Pearson Test of English Academic (PTE Academic) - Requires an overall score of 54 with no sub-score less than 46; or
An Occupational English Test with Grades A or B only in each of the four components; or
Cambridge Certificate in advanced English (CAE) - Score of 180 or above; or
Cambridge Certificate of Proficiency in English - Score of 200 or above; or
Combined Universities Language Test (CULT) - 70% with no individual component score of less than 15.
English test results remain valid for no more than two years between final examination date and the date of commencement of study, and must appear on a single result certificate.
Each student will be assessed individually.
International students:
Refer to International Entry Requirements
You will have to meet this course's
inherent requirements
by demonstrating essential skills and attributes.
Fees & Scholarships
2023 Indicative Fees
| Fee Type | Fees |
| --- | --- |
| International Indicative First Term Fee | A$15,840 |
| International Indicative First Year Fee | A$31,680 |
2024 Indicative Fees
| Fee Type | Fees |
| --- | --- |
| International Indicative First Term Fee | A$17,520 |
| International Indicative First Year Fee | A$35,040 |
Please note the following important information:
Fees are in Australian dollars (A$).

Fees are indicative only and do not cover additional costs such as textbooks, accommodation, visa applications, OSHC, general living etc.

F

ees are based on a full-time study load and the final fee payable will be determined by your selection of units and if any credit was awarded for recognition of prior learning.
The University reserves the right to amend fees at any time during the course. Fees are reviewed yearly and may increase in the following year to enable CQUniversity to continue to provide quality services and facilities to students.
Courses are subject to change at the discretion of the University.
It is your responsibility to make yourself aware of the entry requirements and prerequisites of the courses you wish to undertake.

The typical annual fee shown provides an estimate of the tuition fees for the first year of the course in the same academic year. This estimate assumes a full-time study load of 4 units per term (based on two terms).

S

tudents not on an Australian student visa can only undertake courses online from an overseas location

.

C

ourses undertaken online may be studied on a full-time or part-time mode.
International students studying on-campus in Australia may take no more than 33 per cent of their entire course by online education, and this option cannot be taken in its entirety during a compulsory term (Term 1 and Term 2).
Please refer to our international course fees page.
We offer a range of scholarships to support international students and encourage you to apply for one that's right for you.
How to apply
Our easy to use online application system for international students will guide you through the process of applying for a course at CQUniversity Australia.