Researchers
Dr Rolf Schlagloth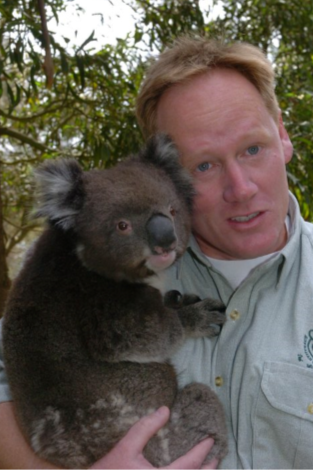 Research Program Lead
Dr Rolf Schlagloth has been working on many aspects of the Koala in different capacities, in Victoria and Queensland since 1992. He has worked with universities, industry, government and community to investigate issues associated with koala history, ecology and management.
These include:
Flora and fauna surveys, some associated with formal impact assessment (e.g. Golden Plains Shire, Ballarat (Vic); St Lawrence, St Bees Is (Qld)),
Koala management plans (KPoM) and associated monitoring,
Revegetation strategies and restoration projects, restoration of koala habitat (e.g. Ballarat KPoM, Golden Plains Koala Habitat Atlas, Framlingham Koala Habitat Revegetation Project) and,
Koala conservation biology (e.g. research on Koala diet and movement in a roadkill blackspot).
He has provided impartial, expert advice to community, industry, state and federal agencies (e.g. National Koala Strategy, Eton Range Realignment Project – Dep. TMR) and local governments (e. g. Ballarat, Golden Plains, Moorabool, Macedon, Central Goldfields) on a variety of issues associated with koala conservation. Rolf is also very interested in exploring historical aspects of the flagship species koala including the relationships that existed between it and Indigenous Australians.
Contact
Email: Dr Rolf Schlagloth
Dr Flavia Santamaria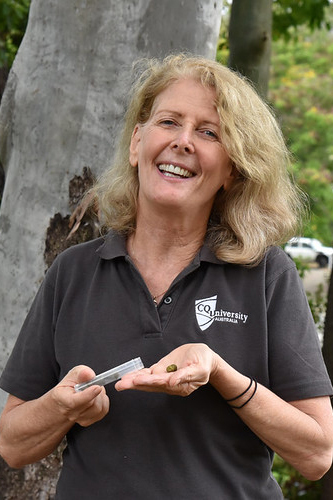 Dr Flavia Santamaria's PhD, carried out in Victoria at the former University of Ballarat (now Federation University), looked at the impact of translocation on the health, food selection and movement of thirty koalas relocated from French Island to three forests around Ballarat. Both in Victoria and Queensland, she has worked on projects that included GIS mapping, vegetation and koala surveys. Flavia's current and future research focus are on koalas' response to stress and koala ecology, and in particular:
the impact of anthropogenic environmental changes on koala populations, including the potential pressure of environmental stress on the health of koalas (i.e. Chlamydia)
how long-term changes to structural diversity of partially cleared land, specifically the removal of middle storey vegetation, impacts on the nutrients of Eucalyptus's foliage.
educating communities on sustainability, as a way forward to improving the health of ecosystems using the Koala as a flagship species.
Contact
Email: f.santamaria@cqu.edu.au
Dr Santamarias Staff Profile
Dr Michael Hewson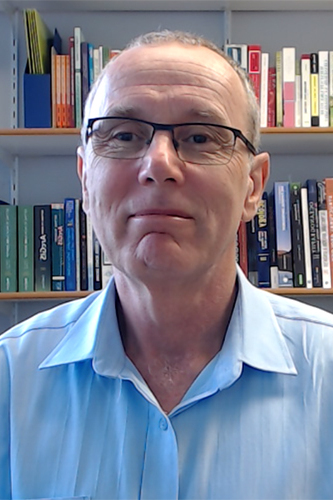 Dr Michael Hewson is an environmental geographer at the Rockhampton North campus of CQUniversity.
Michael's research projects involve applying GIS, satellite remote sensing and weather models for the spatial analysis and mapping of weather and climate questions. Current research revolves around satellite image analysis of threatened species climate varying habitat health. Previous research projects have included numerical weather modelling of wind and aerosol transport (environment, energy and health impacts), land surface temperature mapping, and land-use change mapping for ecological applications.
Residing within the CQU College of the Arts, Michael explores Environmental Humanities as a public policy voice for concerns of the Anthropocene - biodiversity, climate change and sustainability. Amongst his geographical science publications, Michael has contributed creative artefacts of eco-poetry and strategic storytelling to influence environmental policy.
Michael's academic motivation is the Earth System Science imperative of inter-connectedness - economic induced change in one part of the system affects the other parts. Secondly, Michael is concerned that evidence is vital to public environmental policy debate and decisions.
Contact
Email: m.hewson@cqu.edu.au
Dr Alistair Melzer
Dr Alistair Melzer (PhD Ecology UQ) has been working in regional Queensland since 1989 when he commenced studies into koala ecology around Springsure in Central Queensland. Dr Melzer has worked with Queensland's industry, government and community since 1995 to resolve environmental problems associated with project development and subsequent management. Alistair also pursues independent, applied research projects in partnership with state agencies, universities and the community. Currently, these include:
Koala conservation biology;
Restoration of koala habitat under climate change;
Management of environmental weeds and the recovery of fire sensitive ecosystems; and
Ecosystem change under pressure from climate change on Australia's continental islands.
Dr Melzer has provided impartial, expert advice to community, industry, state (New South Wales, South Australia and Queensland) and federal agencies and local governments on a variety of environmental issues associated with conservation biology, biodiversity management, and environmental risks. He has been formally and informally involved in the recovery planning processes for the bridled nailtail wallaby, northern hairy-nosed wombat, and the yellow chat, as well as conservation planning for the koala and some ecosystems. Most recently, Dr Melzer was appointed to the Queensland Government's expert panel to provide advice on ways to better protect koalas and provides advice to the New South Wales Natural Resource Commission on koala research strategy.
Dr Melzer is an Adjunct Research Fellow at CQUniversity (formerly Director of the Centre for Environmental Management, CQUniversity, Gladstone). He has authored or co-authored over 50 scientific publications and more than 60 technical reports. He also continues to run koala research projects through CQUniversity.