Desktop Syncing enables you to create a local cache of all your files that are stored within AARNet's Cloudstor service
Installing the Desktop Syncing software 'ownCloud', creates a folder on your PC/mac/Linux computer and allows you to setup sync rules (choose what to sync).
Having a local cache of all your files, means you can work on any of your data at anytime, without the need for an internet connection.
Having a local cache of all your files, allows you to be able to drag and drop files to and from the 'ownCloud' folder.
As soon as the syncing tool 'ownCloud' detects an internet connection, it will automatically upload and download any new or changed files.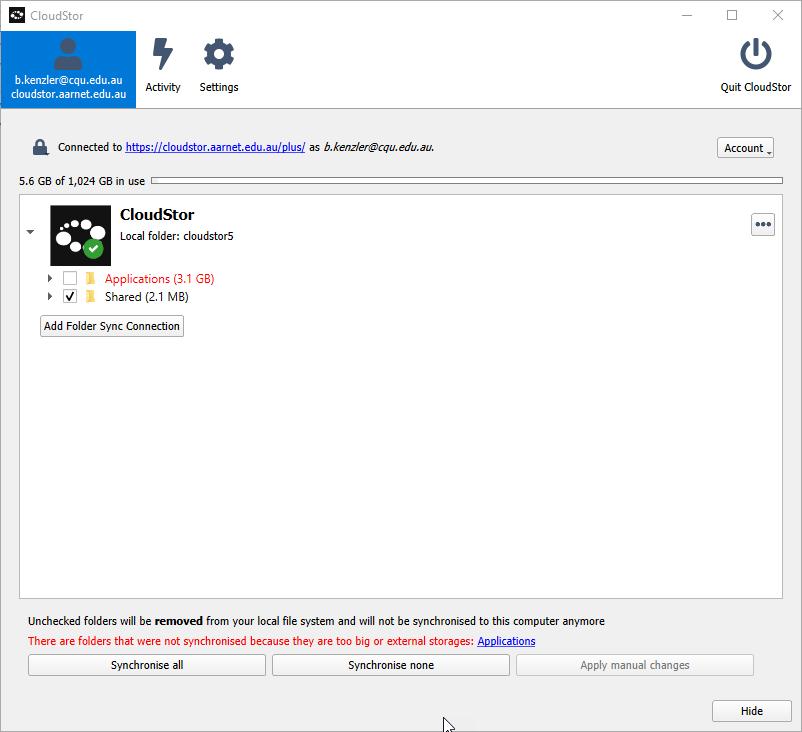 Open the Start Menu and search for "Company Portal", open this app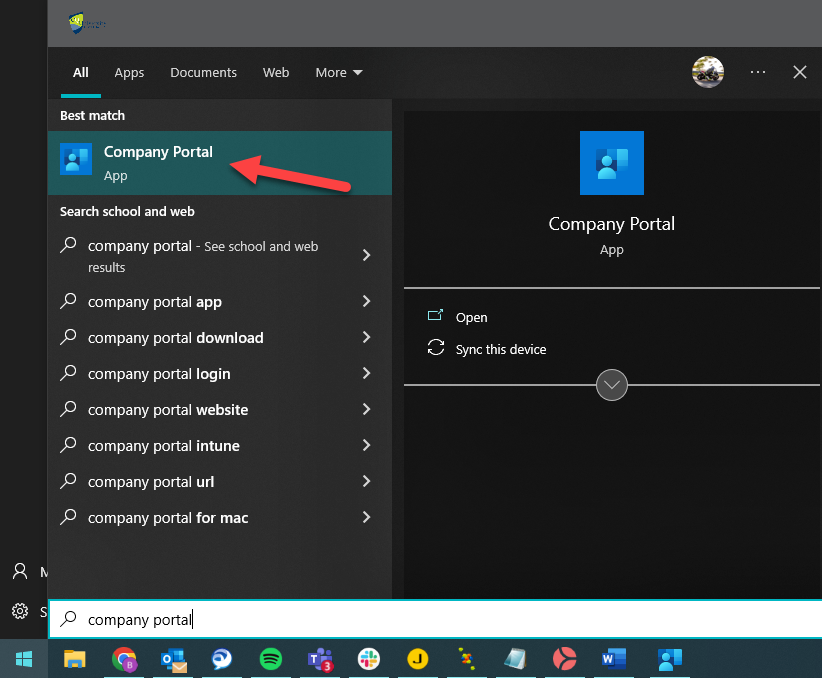 Once open search for "CloudStor" and click Install
Once installed launch the CloudStor app by going to the Start Menu and searching for "CloudStor"
This is the end of the installation process, now head to "First Time Setup Instructions" on this page
Within the AARNet CloudStor interface (https://cloudstor.aarnet.edu.au/), click on the cog icon located in the top right section of the webpage, this will take you to General settings
Now scroll down to the 'Get the apps to sync your files' section as shown below
Now click on the relevant icon that refers to the platform you are using, you will be directed to a download page for the CloudStor desktop installer
Download the required client (select appropriate operating system installation package [windows, Mac's and Linux are supported])
Once the file has downloaded – run the installer application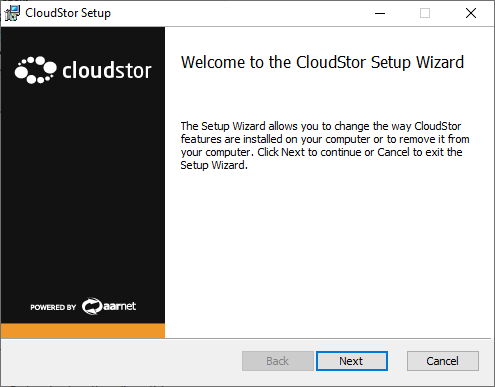 This should install the CloudStor software on your local computer
Just use the default settings for the installation of this software
This is the end of the installation process, now head to "First Time Setup Instructions" on this page
Once open CloudStor will show a sign in page in your browser. If you're already logged into CloudStor in another tab it will show your CQU account and you can simply choose Authorise. If the wrong account is showing or no account at all please sign in by choosing "Switch Users to Continue" and then choosing "CQUniversity" from the selection of institutions and sign in with your CQU credentials.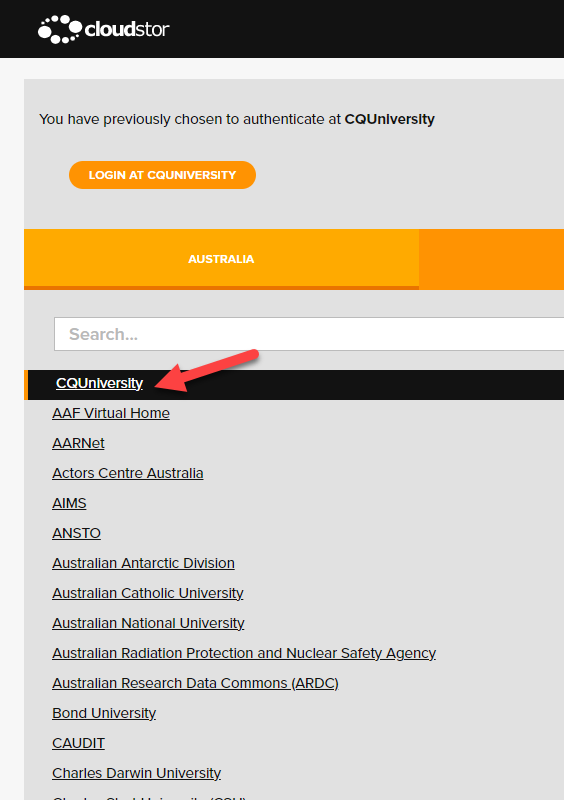 Once signed in you will be presented with options regarding whether you should use virtual files or sync everything. Virtual files will act essentially as shortcuts where the files are not stored on the computer but can be downloaded quickly when needed. Choose this option if you have limited storage on your computer. Sync everyting will download all files onto your computer and can be accessed without a network connection, this will use more space on your harddrive.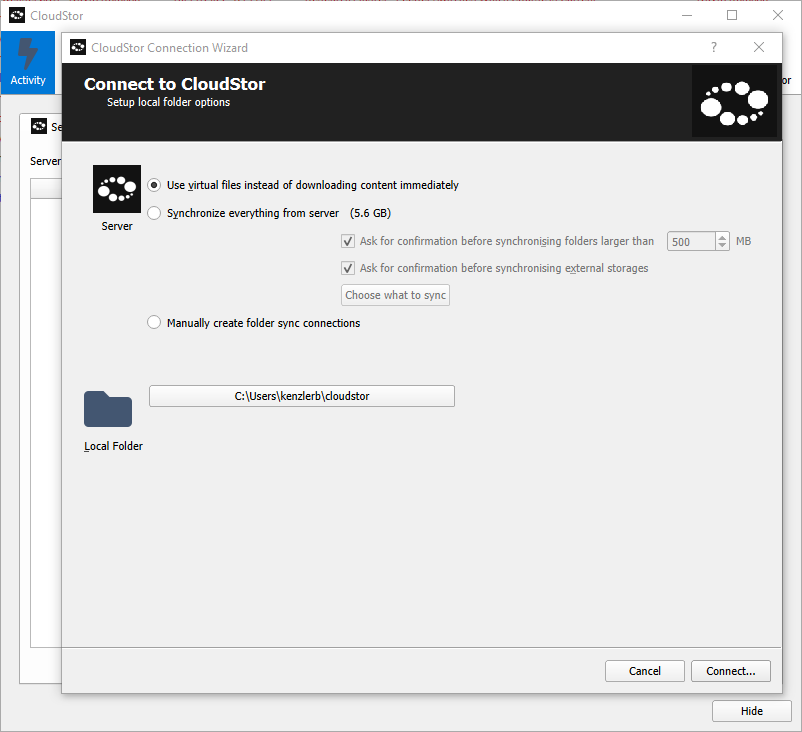 Make your selection based off your circumstances and CloudStor will start syncing your files, this is the end of the setup process.
The default directory is c:\users\<username>\cloudstor (Windows) or /Users/[username]/cloudstor (Mac).
It should have created a "CloudStor" link within your favourites.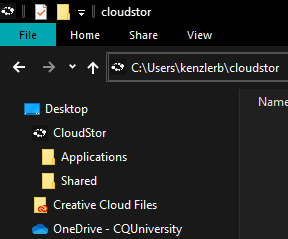 You should be able to find "CloudStor" within your Windows start menu, or as an application within Mac's finder.  If you double click on the "CloudStor" account, it should open up the folder where all your files are stored.
Using the "Activity" tab within CloudStor, will highlight the files that have uploaded, downloaded, moved or been deleted.
The CloudStor desktop client remains in the background while it is running, but is, by default, visible as an icon in the system tray (Windows), the status bar (Mac OSX) or the notification area (Linux). The following are the various possible synchronisation statuses the client's icon may display, along with their meanings:
| | |
| --- | --- |
| | The green circle with the white checkmark tells you that your synchronization is current and you are connected to your DataSync shared location. |
| | The blue icon with the white semi-circles means synchronization is in progress. |
| | The yellow overlay icon with the parallel lines tells you your synchronization has been paused. (Most likely by you, by opening the client and clicking Account > Pause.) |
| | The grey icon with three white dots means your sync client has lost its connection with your shared server location. |
| | When you see a white circle with the letter "i" that is the informational icon, so you should click it to see what it has to tell you. |
| | The red "X" indicates a configuration error, such as incorrect login details or path to the shared server location. You should check these are correct. |
This status information has been copied and reproduced with permission from the University of Edinburgh from their DataSync FAQ's page