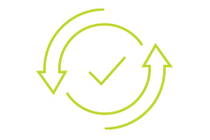 To remain agile and responsive in an ever-changing and complex global environment, we will create a progressive organisation that is socially, culturally and environmentally responsible, whilst maintaining financial sustainability.
We are committed to embedding sustainable practice in our operations, interactions and relationships, underpinned by the United Nations Sustainable Development Goals.
To achieve this
We will sustain our reputation through our commitment to financial, social, environmental and cultural sustainability practices.
We will service our Giving Back agenda with authenticity and altruism, playing our part in overcoming disadvantage and barriers to opportunity.
We will ensure our financial future.
We will seek to maximise our social impact while reducing our ecological footprint.
We will work with communities and industry to deliver education, training and research outcomes to support the development of a more sustainable society.
We will produce graduates who have the knowledge, skills and drive to apply global and sustainable thinking to address complex social, economic and environmental challenges.
We will uphold the principles of the United Nations Sustainable Development Goals through University governance and operational decision-making frameworks.
We will not pursue objectives which imperil our sustainable future.
Goals
Maintain and responsibly manage the long-term financial sustainability of the University.
Improve our efficiency through the optimisation of our human, asset and financial resources.
Operate more sustainably to reduce the University's adverse impact on the environment.
Identify opportunities to diversify sustainable income streams.
Use the levers of price, gender balance, country of origin and location of study to maintain or increase our international student income, whilst reducing our risk exposure.
Return at least one per cent of our annual turnover to the communities we serve in targeted ways which are designed to make our communities more sustainable.
Measures of success
Maintaining and increasing our Giving Back commitment to our communities.
Improving the overall financial position of the University.
Reducing energy usage across CQUniversity.
Reducing waste across our campus footprint.