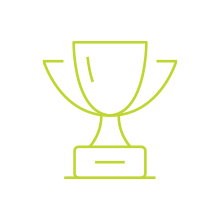 Our reputation is a measure of our quality and ability to differentiate our University. We exhibit this by sharing our unique vision and effecting transformational change in Australia and abroad.
Our reputation is inherently linked with our ability to engage with students, alumni and other partners to create long-lasting and mutually beneficial relationships.
Our growing reputation will continue to inspire pride in their association with our University.
To achieve this
We will be recognised for the respect and reverence we pay to the world's longest continuing culture, Australia's First Nations People, and the role we play in supporting their traditions and culture, and the custodianship of the lands on which we operate.
We will enhance our reputation across Australia and the world through the quality of our graduates, our research, our engagement, our adherence to our values, and our impact as a transformer of lives and communities.
We will invest in the tools, resources and people required to enhance our standing in high-profile domestic and global ranking systems.
We will honour our role as Australia's only Changemaker University by maximising the impact of our commitment to social innovation.
We will utilise our reputation to be a positive influence on government policy wherever it relates to the training, education and research needs of the communities we serve.
We will establish ourselves as leaders in addressing key issues that affect individuals and communities across the world.
We will share stories that promote the remarkable achievements and impact of our staff, students and alumni. We will use these stories to add value to those qualifications we have awarded in the past, and to those qualifications towards which our students are working towards today.
We will not engage in activities that compromise the reputation of our students, alumni or the communities we serve. We will recognise that their reputation is linked to our own.
Goals
Capitalise on our international recognition as Australia's only Changemaker University to promote our commitment to social innovation.
Highlight our unique power of place and national footprint to leverage the support of government, industry and community in our operations.
Influence key policy areas through proactive advocacy with government and the sector.
Attract greater philanthropic activity from alumni, industry and our communities.
Enhance the University's reputation globally.
Measures of success
Improving our standing in the Times Higher Education Reputation Index.
Achieving and maintaining renewed accreditation as a Changemaker University with Ashoka U.
Achieving and maintaining accreditation into the Carnegie Community Engagement Classification Framework.
Increasing philanthropic income.
Increasing other externally-sourced income.
Increasing CQUniversity's representation and participation within professional associations and corporate bodies.