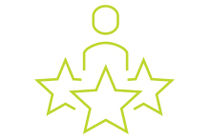 Our people are central to the delivery of our vision and purpose. They represent CQUniversity by exhibiting integrity and living by our values.
They use their knowledge, skills and talents to continually improve our relationships with our students, alumni, partners and communities.
We recognise that our impact as a university reflects the efforts, talent and passion of our staff.
To achieve this
We will empower our staff to be innovative, technology-confident leaders whose skills are sought after across the world. This will be accomplished by an increase in resources, staff training and support mechanisms at CQUniversity.
We will inspire a culture of continual self-improvement, so that all staff can meet their full potential and establish themselves as leaders in their vocation.
We will support staff by developing evidence-based, data-driven support systems that reward endeavour and initiative, whilst not accepting mediocrity.
We will build the most supportive, people-friendly culture in the sector by considering the needs of others and practicing kindness, empathy and respect.
We will promote an ethos of informed, bold innovation through a safe-to-fail culture.
We will accept only the best staff into our University community and will not compromise on staff appointments.
We will work towards having an appropriate position and leadership spread across all campuses.
We will support staff to reach their full potential and be the best at what they do, insisting that all staff pursue self-improvement or career advancement.
We will not accept behaviour that risks the safety and wellbeing of staff, students or other members of the University community. Everyone has the right to a rewarding, safe and harmonious place in which to work and learn.
We will not accept attitudes that do not align with our values or culture. All staff are empowered to defend and uphold our values to preserve and strengthen the University's reputation and ensure we are operating with integrity.
Goals
Develop user-friendly, real-time feedback systems that empower staff to continually improve.
Attract and retain the best people by a non-compromise approach to our values-driven culture.
Ensure our workforce embodies the richness of culture and diversity in our communities.
Encourage and enable staff to be engaged broadly and contribute beyond their immediate responsibilities.
Recognise and celebrate achievements of our staff.
Build the capacity of our teaching workforce, enabling them to remain at the cutting edge of educational delivery through our commitment to scholarship-informed learning and teaching.
Readily recruit our students and graduates into appropriate employment opportunities across the University.
Measures of success
Increasing our overall staff satisfaction rating.
Increasing our external staff recognition submissions.
Increasing Indigenous employment opportunities.
Increasing the number of staff who hold, or are studying, a VET or tertiary qualification.
Maintaining an appropriate level of staff participation in professional development opportunities.