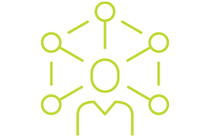 Our power of place delivers a unique advantage. Proactive and meaningful engagement with communities, both in Australia and overseas, will always inform our actions and offerings.
CQUniversity will only meet its full potential when our communities and industries have reached theirs; we will support them to do so.
Our connection with community will be defined by our ability to engage meaningfully with diverse groups and respond with purpose to their current and future needs.
Goals
Collaborate with Australia's First Nations People to strengthen our relationships with the custodians of the lands hosting the communities we serve.
Establish new international relationships to facilitate mutually beneficial education ventures.
Optimise and expand our presence and impact through partnerships with our communities.
Embed the philosophy of social innovation within all aspects of our operations to support the communities we serve.
Measures of success
Increasing our engagement with Indigenous communities in partnership with community Elders.
Being recognised by Reconciliation Australia for the CQUniversity Reconciliation Action Plan.
Expanding our presence by partnering with and supporting new study hubs in under-serviced Australian communities.
Increasing staff engagement in external community initiatives.
Increasing social and Indigenous procurement activities of CQUniversity.
Establishing new, significant corporate partnerships.
We will continue to recognise the traditional custodians of the lands on which our campuses are located across Australia and show respect to all Indigenous people. We believe our greatest contribution to First Nations People will be the provision of access to world-class education, research and employment opportunities.
We will be proactive in our engagement with our many community and industry partners. We will work hard to build and maintain robust, sustainable partnerships so that we can meet and exceed their research, training and education aspirations.
We will be responsive to changing workforce needs in the design and delivery of programs and we will lead research critical to the sustainability and prosperity of local industries and economies.
We will recognise the role government plays in our success, and we will influence and respond to changing government priorities in training, education and research at the pace they expect.
We will leverage our connection with government by delivering activities and programs that are relevant to the needs of community and industry.
We will enrich our communities – at home and abroad – through the diversity of our social innovation activities and the generosity of our Giving Back culture.
We will work with communities and stakeholders to identify and address their unique social issues and wicked problems.
We will honour the social license granted to us by our communities through the delivery of high-quality training, education and research that is accessible to all. We will not embark on activities that do not attract the support of our communities.
We will not embark on activities that do not attract the support of our communities.