CQCM Artistic Ambassadors connects our students with industry and professionals during their studies at CQCM.
You will build a valuable support network while under the guidance and mentorship of leaders in their field and help prepare them for a career in performing arts.
Artistic Ambassador (Theatre) – Peter Cousens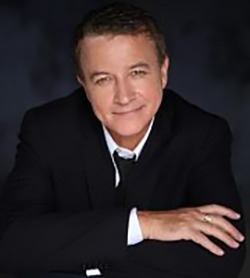 Peter Cousens, a graduate of the National Institute of Dramatic Art (NIDA), is an actor, singer, producer, director, teacher and film director. He is the only Australian to play the Phantom in The Phantom of the Opera on London's West End which he did for eleven months in 1997/98. He has starred alongside Russel Crowe in Blood Brothers, the late Richard Harris in Camelot and has had an extensive career playing major roles in musicals throughout Australia, New Zealand and England.
Peter also performs the role of Chris on the International Symphonic Recording of Miss Saigon.
From 2006 to 2008 he was CEO and Artistic Director of Kookaburra: The National Musical Theatre Company and produced seven musicals, two major concerts and fourteen cabaret events.
Peter is the Adjunct Associate Professor in the School of Creative and Performing Arts and Artistic Ambassador for the Bachelor of Theatre program at Central Queensland University.
His musical theatre roles include Tony in West Side Story; Eddie in Blood Brothers; Mordred in Camelot; Chris in Miss Saigon; Nanki Poo in The Mikado; Motel in Fiddler on the Roof; Eddie in Blood Brothers; Bill in The Sentimental Bloke; Raoul in the Australian production of The Phantom of the Opera; The Phantom in London's West End production of The Phantom of the Opera; Alex in Aspects of Love; Marius in Les Miserables; Ravenal in Hal Prince's Show Boat; Marius in Fanny; The Celebrant in Bernstein's Mass; Anthony and Tobias in Sweeney Todd; Bobby in Company; Mr Makin in The Hatpin; Floyd in Floyd Collins; Bobby in Company; Vince in Strange Bedfellows.
As an actor he has worked extensively with Australia's major performing arts companies including Sydney Theatre Company Macbeth, Measure for Measure, Nicholas Nickleby, Chicago, Chinchilla and Convict's Opera; Griffin The Falls; Philip Street Theatre Whose Life is it Anyway; The Queensland Theatre Company Camille, Breaker Morant, You Never Can Tell, The Sentimental Bloke; Marian Street, London Assurance & Fanny; Melbourne Theatre Company Company; Sydney Dance Company in Tivoli; Out of Joint (UK) The Convicts Opera; Darlinghurst Theatre The Paris Letter.
On Television Cliffy, Phryne Fisher, Return to Eden, The Sullivans, Carson's Law, The Young Doctors, Son and Daughters, The Timeless Land andUnder Capricorn.
He has recorded five albums - Corner Of The Sky, From A Distance, A Life on Earth, A Musical Christmas, The Peter Cousens Collection and the International Symphonic Recording of Miss Saigon.
For stage and television Peter produced Victoriana 1984-89; Break a Leg (a 10 part TV series) 2004; An Audience with Stephen Sondheim 2007 (A Television Event on Stage with ABC & Foxtel); Pippin 2007; Company 2007; Tell Me on a Sunday 2008; Little Women 2008; I Love You Your Perfect Now Change 2008; Up Close and Musical 2007/8; The Noel Coward Letters 2008; Songs for a New World 2008; The Emperors New Clothes 2008; The Launch Concert (Sydney); 2006 Gala Concert (Melbourne) 2008; Crusade 2010.
As a Director his credits include Victoriana 1983-87; Migratory V 2003; The Emperor's New Clothes 2008; Songs For A New World 2008; Crusade 2010; How To Succeed In Business 2011; Showcase TDP 2011; and The Sentimental Bloke.
Peter tours extensively around Australia with his own one-man show, A life on Earth and works regularly in concert performing in Australia's major performing arts venues and Symphony Orchestras.
Peter won the Variety Heart Award for Best Performer for Chris in Miss Saigon. He has been nominated for seven Mo Awards and in 2009 he won the Glug Award for Services to Theatre.
He is a consultant with the Talent Development Project and conducts workshops and master classes with elite talent from Government Schools across NSW. Peter also conducts classes and workshops with the NSW Education Departments Arts Unit specifically around the development of performance skills for secondary students.
Peter is an Ambassador for the White Ribbon Campaign – making violence against women a thing of the past and an Ambassador for Peer Support Australia.
Peter has recently completed post-production on the feature film FREEDOM starring Cuba Gooding Jr. and William Sadler which he produced and directed in the USA. FREEDOM was released in Australia in August 2014.
Peter Cousens is Adjunct Associate Professor in the School of Creative and Performing Arts at CQUniversity and Artistic Ambassador for the Theatre program.