Research in the School is conducted in three major areas: Regional Economies and Supply Chains, Work, Employment, Regulation and Governance and Sustainable Enterprise Group.
Research personnel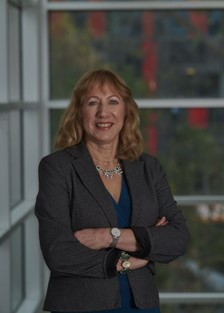 Professor Santina Bertone, Deputy Dean (Research)
The School's research strategy is led by the Deputy Dean (Research), Professor Santina Bertone, with Dr. Amanda-Jane George, Postgraduate Research Coordinator.
Prof Bertone is a long-standing academic leader, having led 65 externally funded research projects, including Australian Research Council projects and authored/co-authored 132 publications. Her research focuses on the intersection of immigration and employment. She emphasises the value of industry and community-engaged research, and has herself, produced research with a wide range of government, industry and community partners. In 2003 she won the Centenary of Federation medal for contributions to industrial relations, academia and the Ethnic Communities Council of Victoria.
Dr. Catherine (Cait) White (Postgraduate Research Coordinator)
Dr Catherine (Cait) White is the Postgraduate Research Coordinator for the School of Business and Law.
Cait received her BA from the University of California, San Diego in Communication and her MA and PhD from the University of Washington also in Communication.
Her doctoral dissertation focused upon the significance of the use of different modalities of communication within organisational contexts.  Her research expertise lies in the areas of organisational communication and qualitative methods specifically discourse and rhetorical analysis.
CRESC aims to strengthen regional economies and foster environmental sustainability in Northern Australia through the application of economic frameworks to resource and sustainability issues in the regions. The area also seeks to improve supply chains, particularly in agriculture and other regional industries.
Research includes:
Rural and Regional economies
Resource and Environmental Economics
Agricultural economics
Supply, value and block chains
For more information head to our CRESC web page.
WERG focuses on the rapidly changing employment and economic context and emergent social, economic, regulatory and policy challenges this raises for business and society. The area aims to address these challenges and promote ethical leadership, enhancing equity, efficiency and transparency in business and employment.  This research area will target particular challenges relating to gender and diversity in employment, business ethics and governance, and the intersection of new technology with new forms of work.
Research includes:
HRM and employment relations
Gender and diversity at work
Ethics in business and government
Corporate governance
Labour regulation
AI and the professions/employment
Data analytics applications in Auditing and Security
For more information head to our WERG web page.
This group aims to develop business, ethical and legal models and processes that have a positive impact on economic, social, and environmental outcomes for society. It focuses on promoting sustainable use of resources, reducing waste, promoting automation and social innovation in business, government, criminal justice, the legal profession, and the law, and creating just and equitable community outcomes.
Includes:
Fight Food Waste CRC Engagement program
Social Innovation and Entrepreneurship
Corporate Social Responsibility
Community law and justice
Public law
For more information head to our SEG web page.
Transcript
My name Shimo Zhang and I am now a research student at CQUniversity Australia.
Before I started my PhD at CQUniversity, I had completed my masters degree in the UK and worked as a lecturer at Shenyang University in China for seven years. I decided to do my PhD because I wanted to build on my postgraduate study in management and experience as a university lecturer and make a significant contribution. Human resource is a field that I am greatly interested in and wish to learn more. I chose CQUniversity to do my PhD because I feel it is one of the most dynamic and innovative universities in Australia.
CQUniversity always maintains its standards in a specific way while evolving to changing the environment. Additionally, I choose CQUniversity to continue my study as I was very happy with the support, networking and diligence of the university staff. What's really most interesting and important to do your research at CQUniversity, for this reason, is, that we work in the area of social innovation. It's one of the ways in which we distinguish ourselves as a university. A lot of our research is explicitly about being engaged with society.
Our research is not simply about publishing in highly ranked international journals, we do that, but it's also about addressing social and economic problems. That's how we define this University. That's what makes it different. My research topic concentrates on high-performance work systems in China. This study is an attempt to look into the roles of the relevant attitudinal outcomes such as trust and job satisfaction in the High-Performance Work Systems and employee performance link. What I enjoy the most about being a PhD student at CQUniversity is first, the fact that I've been very fortunate to receive supervision from high calibre and supportive supervisors. They have significant expertise in my field of interest and are supportive and encouraging mentors. Secondly, my network is growing. And I'm able to connect with other research students, both domestic and international, and staff to develop new friendships.
My advice to future students is to be passionate about your research.
I look forward to you joining our research community here at CQUniversity.
"

I completed a masters by research on the business impacts of extreme weather events on fruit farming. I have published a journal article and conference papers. I was awarded an Elevate scholarship with the CRC Northern Australia to start my PhD.

Master by Research, Bangladesh