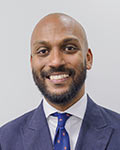 Shehan Thampapillai is responsible for and oversees CQUniversity Australia's operations in New South Wales. 

Shehan has responsibility for business growth and development, regional engagement, teaching and learning, research, capital works and the pastoral care of students and staff.
Shehan is an experienced leader who has spent the past 18 years' within the international education sector where he has held various senior positions at private and government institutions in Australia and the United Kingdom.
Having spent 13 years in student recruitment and another five in business intelligence, Shehan brings a wealth of knowledge to help navigate CQUniversity through the complex and ever-changing landscape of tertiary education domestically and internationally.
As part of his wider role, Shehan also provides business intelligence within an international context to the wider university community. He also oversees the strategy of the international marketing communications and acquisition operations at CQUniversity.