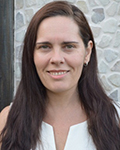 Jodie Duignan-George is the Associate Vice-President for the Cairns and Far North Queensland Region.
As head of the campus, Jodie is responsible for the management of the new Cairns CBD campus and is committed to working with community and industry to ensure that CQUniversity positively contributes to the region's development through the establishment of mutually beneficial relationships and projects that make a difference.
CQUniversity Cairns offers a range of courses across many discipline areas including health, education, engineering and business. Jodie is always open to discussions with industry in relation to course development, course feedback, opportunities for partnerships around student placements and general research opportunities. Local research strengths include tourism, economic development, gambling research, Indigenous leadership and Indigenous health, along with access to the broader CQUniversity research network. The Cairns campus is also home to CQUniversity's newly opened Centre for Tourism and Regional Opportunities (CTRO).
To make an appointment to see Jodie please contact Cairns campus reception on 07 4037 4777.