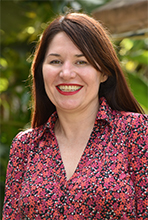 Professor Fiona Coulson 
Phone: 07 4923 2623
Email: f.coulson@cqu.edu.au
Ms Carol Burnett
Project Administrator/Executive Assistant
Phone: 07 4930 9640
Email: c.burnett@cqu.edu.au
About Deputy Vice-President, Office of Education Strategy and Innovation
As the Deputy Vice-President, Office of Education Strategy and Innovation, Prof Fiona Coulson has a leading role in designing and implementing strategies that position CQUniversity as the most engaged, accessible, inclusive provider of tertiary education with a focus on the quality of the student learning journey. This includes oversight of CQUniversity's key strategic program of work – the transformative, whole-of-university CQU Renew project – along with a number of innovative, high-profile "institutional legacy" projects which support the CQUniversity Strategic Plan.
About Professor Fiona Coulson
Prior to the role of Deputy Vice-President, Office of Education Strategy and Innovation, Prof Coulson held previous roles at CQUniversity including Deputy Vice-Chancellor (Strategic Development), and Dean of the University's largest School; the School of Health, Medical and Applied Sciences. Prof Coulson has a background in medical research, primarily in the relationship between diabetes and inflammation and their effects on gastrointestinal motility and respiratory function. Prof Coulson's medical research has spanned across multiple institutions, including The University of Queensland, Griffith University, and the Bloomberg School of Public Health at Johns Hopkins University in Baltimore, USA. Prof Coulson's upbringing in small towns across outback Queensland has made her a powerful advocate for the role played by regional Australia in our national prosperity, and the transformative effect that training, education and research yields in non-metropolitan communities. Prof Coulson and her family proudly call Rockhampton, Central Queensland their home.