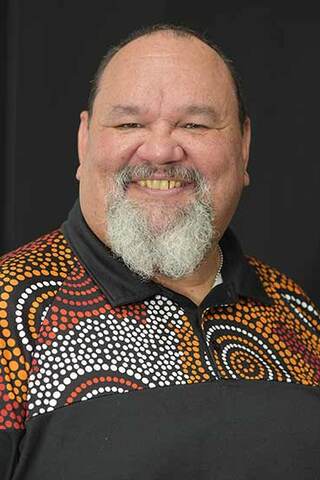 Professor Adrian Miller
Phone: 07 4726 5382
Email dvp-oie@cqu.edu.au
Ms Marina Mikecz, Executive Officer
Phone: 07 4923 2379
Email: m.mikecz@cqu.edu.au
Ms Kirsten Walpole Sinnamon, Executive Assistant
Phone: 07 4930 6409
Email: k.walpole@cqu.edu.au
About the Deputy Vice-President, Indigenous Engagement 
The Deputy Vice-President, Indigenous Engagement is responsible for the operations and strategic direction of the University's Office of Indigenous Engagement. The Office provides research and support activities to improve outcomes for Aboriginal and Torres Strait Islander people and communities.
About the BHP Chair in Indigenous Engagement
The BHP Chair in Indigenous Engagement focuses on strategic planning, capacity building, engagement and performance in working towards reconciliation, achieving better outcomes for Indigenous Australians in education, training, research and employment and in promoting a sustainable culture of social inclusion, diversity and cross cultural proficiency.

The Chair leads two research projects focussed on delivering these objectives while driving initiatives that facilitate education and employment aspirations and inclusiveness for Indigenous peoples withing the Central Queensland community and beyond.
About Professor Adrian Miller
Professor Miller has strong leadership experience and a passion for achieving positive collaborative outcomes for Indigenous communities, including his own Jirrbal people in north Queensland.
Professor Miller is an established Public Health scholar and is known nationally and internationally for his research and leadership in Indigenous and environmental health, infectious diseases, higher education and immunology.
His recent national and international publications and outcomes have influenced national and state policies, in particular, national pandemic planning. His latest research published in the Nature journal will lead to novel vaccine development for new strains of influenza for global Indigenous populations.
He is an Honorary Fellow of the Menzies School of Health (Charles Darwin University) and holds an Adjunct Professorship with the Menzies Health Institute Queensland (Griffith University).
He has won $26M in grants in his career to date and is a recognised expert with the Academy of Sciences. He is regularly invited to peer review journal articles for a range of prestigious publications.
Professor Miller is currently the Deputy Vice-President Indigenous Engagement, BHP Chair in Indigenous Engagement and Director of the Centre for Indigenous Health and Equity Research (CIHER) at Central Queensland University having held distinguished previous positions at Charles Darwin, Griffith, Southern Cross, Macquarie and James Cook Universities. During the past 25 years in higher education, he has demonstrated excellence in management, leadership, academic program development, teaching and research. He has a strong interest in applied research and twice been awarded Australian College of Educators Teaching Award.